Diagrams
Sorry! Apparently you did not find the page you were looking for. I have made some changes to my website. Perhaps the page has moved, or the name of the page has changed. Please try searching the site navigation on the left, the site map or the homepage . You can also use the search box on the right.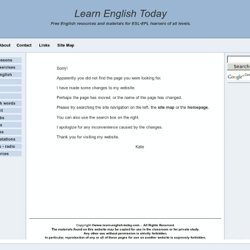 Business English vocabulary related to graphs, charts, statistics, figures, visual aids, results, trends.
Describing charts and diagrams Das Arbeitsblatt ( PDF , 2,7 MB) erklärt wichtige Begriffe und Wendungen zum Beschreiben von Diagrammen und Schaubildern . Der Schwerpunkt liegt auf Linien- und Balkendiagrammen (line charts and bar charts) , es werden aber auch allgemeine Begriffe und Kuchendiagramme (pie charts) behandelt. Ergänzt wird das Ganze durch 10 Diagramme , die zur Anwendung und Übung eingesetzt werden können. Dieser Artikel steht unter der Creative Commons Lizenz CC BY-SA .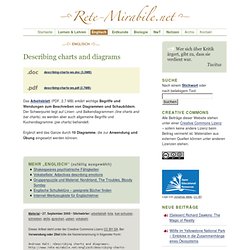 Describing charts and diagrams (Englisch) | Rete-Mirabile.net
Describing graphs(IELTS) for ESL teachers
Describing graphs
DESCRIBING TRENDS OR MOVEMENTS