Outils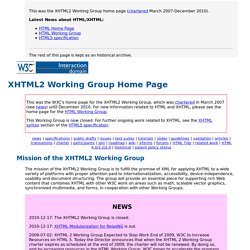 Skip to title |
Couleurs hexadécimale RGB Informatique et Web Les couleurs en informatique sont exprimées en "codes hexadécimaux" ou "RGB" , (Red, Green, Blue, en francais RVB Rouge, Vert, Bleu). Pour coder la couleur d'un pixel on utilise trois octets qui définissent chacun la luminosité des couleurs Rouge Verte Bleu ; on utilise un nombre hexadecimal à 6 chiffres : les 2 premiers correspondent à la luminosité du rouge, les 2 suivants à la luminosité du vert et les 2 derniers à la luminosité bleu (ex : avec une intensité maximale sur le rouge on a #FF0000)...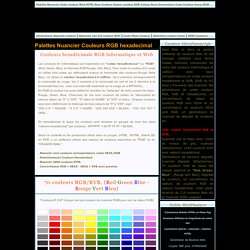 Hébergeur gratuit d'images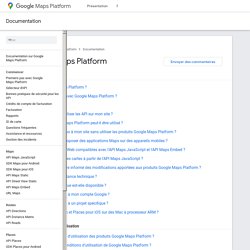 What are the Google Maps APIs?
FAQ - Google Maps API - Google Code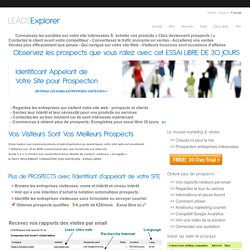 Génération prospect & CRM - Nom d'entreprise visiteur site web |
Solution à la demande ( On Demand ) accessible par tout navigateur ( Browser ) Génération de prospects par votre site web en B to B Génération de Leads sans interférer avec le visiteur Le CRM augmente vos ventes en combinant: le comportement du visiteur l'information décisionelle ( Business Intelligence Intégration sans soudure de votre site web et GRC pour : une information sur les visites en temps réel (alertes) pas de téléchargement de données pas de duplication des données Un GRC intégré avec votre système d'emails La vente assistée par ordinateur. Réduisez de manière significative vos coûts pour : Comparer les coûts : livre blanc.