Relaxy
SimplyNoise is the best free color noise generator on the Internet, with thousands of new users discovering our site each day! All of our content is crafted by a professional Sound Designer to ensure the highest audio fidelity. The benefits of color noise have been utilized in clinics, schools, households, and offices around the world.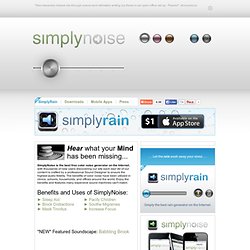 Worriers Anonymous Meditation room to play music to meditate and relax
Engaging in a relaxing activity such as reading, meditation, yoga, or listening to music, before going to bed, can help you to get a good night sleep. Perform this activity in a dimly lit, stress-free environment. Try to schedule your activity to take place at the same time every day.