Books!!
Best Young Adult Novels, Best Teen Fiction, Top 100 Teen Novels
Arts & Life > Books > 100 Best Books It's almost a cliche at this point to say that teen fiction isn't just for teens anymore. Just last year, the Association of American Publishers ranked Children's/Young Adult books as the single fastest-growing publishing category. Which is why we were only a little surprised to see the tremendous response that came in for this summer's Best-Ever Teen Fiction poll.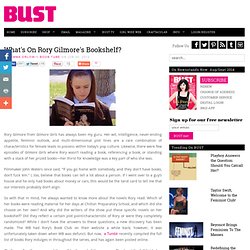 Rory Gilmore from Gilmore Girls has always been my guru. Her wit, intelligence, never-ending appetite, feminist outlook, and multi-dimensional plot lines are a rare combination of characteristics for female leads to possess within today's pop culture. Likewise, there were few episodes of Gilmore Girls where Rory wasn't reading a book, referencing a book, or standing with a stack of her prized books—her thirst for knowledge was a key part of who she was. Filmmaker John Waters once said, "If you go home with somebody, and they don't have books, don't fuck 'em."
What's on Rory Gilmore's Bookshelf?
post written by: Marc Chernoff Email In various ways, these 30 books convey some of the philosophy of how Angel and I live our lives. I honestly credit a fraction of who I am today to each title. Thus, they have indirectly influenced much of what I write about on this site.