Recipes
Pamela Salzmans Tips For Better Eating - Read More on Heathly Living on ELLE.com. Salzman's Six Pantry Swaps Out: Harsh table salt In: Moderate amounts of mineral-rich unrefined salts—Celtic, Himalayan, or Maldon—can be healing.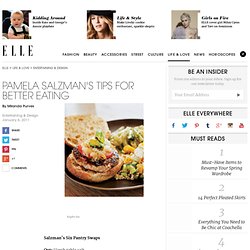 Out: Overprocessed oils such as corn, canola, and soybean In: Cold-pressed olive, coconut, and sesame oils; they boost immunity. Out: Acid-forming, nonnutritive, addictive white sugar In: Limited doses of pure maple or brown-rice syrups, stevia, and raw honey Out: Too much gluten-laden wheat, spelt, rye, and barley In: Brown rice, quinoa, millet, amaranth, legumes, sweet potatoes, and corn Out: Nutrient-stripped white flour In: Whole wheat and rice flours. Frites &fries - Garlic Knots. Garlic Knots Most of my early food memories had to do with all the garlic dishes that my grandmother made.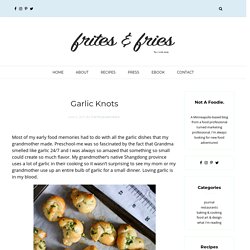 Preschool-me was so fascinated by the fact that Grandma smelled like garlic 24/7 and I was always so amazed that something so small could create so much flavor. My grandmother's native Shangdong province uses a lot of garlic in their cooking so it wasn't surprising to see my mom or my grandmother use up an entire bulb of garlic for a small dinner.
Loving garlic is in my blood. When I make something with garlic in it, I tend to go nuts and use way more garlic cloves than necessary because I love using it. 50 Easy Soups (1 - 10) : Recipes and Cooking. 1.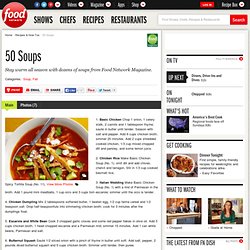 Basic Chicken Chop 1 onion, 1 celery stalk, 2 carrots and 1 tablespoon thyme; sauté in butter until tender. Season with salt and pepper. Rainbow Cupcakes! | Recipe | Cut Out. Kitchens. Swirled Cheesecake Brownies -EW - iVillage - StumbleUpon. 50 Easy Pizzas : Recipes and Cooking. Better Than Takeout Orange Chicken. Yesterday as I stood in the kitchen trying to figure out what to make for dinner I wondered to myself, how do those people do it on those shows where they are given random ingredients and are suppose come up with something genius.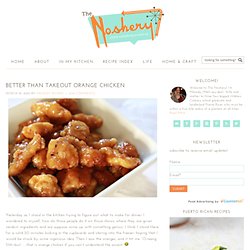 I think I stood there for a solid 20 minutes looking in the cupboards and staring into the freezer hoping that I would be struck by some ingenious idea. Then I saw the oranges, and it hit me "O-raang Shh-ikun"….that is orange chicken if you can't understand the accent. Oreo Turkey Cookies (Explored) Sweet Potato Biscuits with Honey Cinnamon Butter. Have you given up on making biscuits?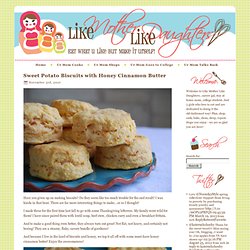 Do they seem like too much trouble for the end result? I was kinda in that boat. There are far more interesting things to make…or so I thought! I made these for the first time last fall to go with some Thanksgiving leftovers. My family went wild for them! Grilled Cheese Academy.
---