Obilniny
Quinoa. Quinoa (/ˈkiːnwɑː/ or /kɨˈnoʊ.ə/, Spanish: quinua, from Quechua: kinwa), a species of goosefoot (Chenopodium), is a grain crop grown primarily for its edible seeds.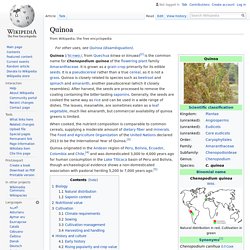 It is a pseudocereal rather than a true cereal, as it is not a member of the true grass family. As a chenopod, quinoa is closely related to species such as beetroots, spinach and tumbleweeds. It is high in protein, lacks gluten, and is tolerant of dry soil. Quinoa. Buckwheat. Buckwheat, with the botanical name Fagopyrum esculentum, is a plant cultivated for its grain-like seeds, and also used as a cover crop.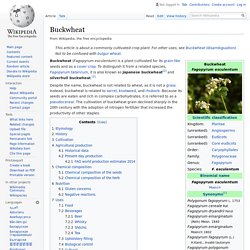 Despite the name, buckwheat is not related to wheat, as it is not a grass. Instead, buckwheat is related to sorrel, knotweed, and rhubarb. The cultivation of buckwheat grain declined sharply in the 20th century with the adoption of nitrogen fertilizer that increased the productivity of other staples. Oat. The common oat (Avena sativa) is a species of cereal grain grown for its seed, which is known by the same name (usually in the plural, unlike other grains).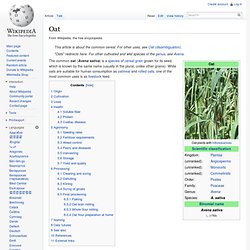 While oats are suitable for human consumption as oatmeal and rolled oats, one of the most common uses is as livestock feed. Origin[edit] The wild ancestor of Avena sativa and the closely related minor crop, A. byzantina, is the hexaploid wild oat A. sterilis. Genetic evidence shows the ancestral forms of A. sterilis grew in the Fertile Crescent of the Near East. Domesticated oats appear relatively late, and far from the Near East, in Bronze Age Europe.
Barley. Barley (Hordeum vulgare L.), a member of the grass family, is a major cereal grain.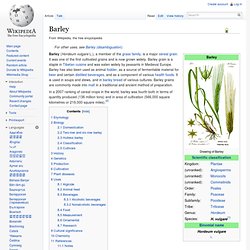 It was one of the first cultivated grains and is now grown widely. Barley grain is a staple in Tibetan cuisine and was eaten widely by peasants in Medieval Europe. Rice. A mixture of brown, white, and red indica rice, also containing wild rice, Zizania species Rice is the seed of the monocot plants Oryza sativa (Asian rice) or Oryza glaberrima (African rice).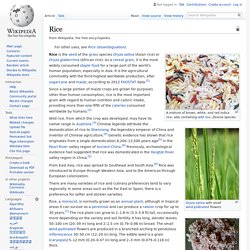 As a cereal grain, it is the most widely consumed staple food for a large part of the world's human population, especially in Asia. It is the grain with the second-highest worldwide production, after corn, according to data for 2010.[1] Since a large portion of maize crops are grown for purposes other than human consumption, rice is the most important grain with regard to human nutrition and caloric intake, providing more than one fifth of the calories consumed worldwide by humans.[2] Maize. Maize (/ˈmeɪz/ MAYZ; Zea mays subsp. mays, from Spanish: maíz after Taíno mahiz), known in some English-speaking countries as corn, is a large grain plant domesticated by indigenous peoples in Mesoamerica in prehistoric times.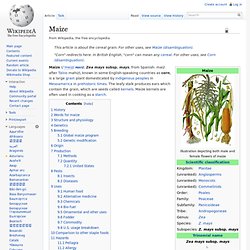 The leafy stalk produces ears which contain the grain, which are seeds called kernels. Maize kernels are often used in cooking as a starch. Millet. Millets are a group of highly variable small-seeded grasses, widely grown around the world as cereal crops or grains for both human food and fodder.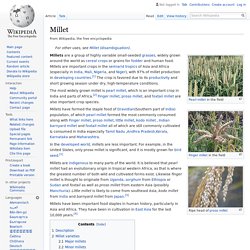 They do not form a taxonomic group, but rather a functional or agronomic one. Millets are important crops in the semi-arid tropics of Asia and Africa (especially in India, Nigeria, and Niger), with 97% of millet production in developing countries.[1] The crop is favored due to its productivity and short growing season under dry, high temperature conditions. The most widely grown millet is pearl millet, which is an important sized crop in India and parts of Africa.[2] Finger millet, proso millet, and foxtail millet are also important crop species. In the developed world, millets are less important. Kamut. Khorasan wheat or Oriental wheat (Triticum turgidum ssp. turanicum also called Triticum turanicum) is a tetraploid wheat species.[2] It is an ancient grain type; Khorasan refers to a historical region in modern-day Afghanistan and the northeast of Iran.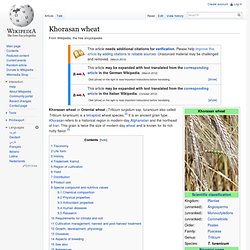 This grain is twice the size of modern-day wheat and is known for its rich nutty flavor.[3] Taxonomy[edit] Original botanical identifications were uncertain. The variety is a form of Triticum turgidum subsp. turanicum (also known as Triticum turanicum), usually called Khorasan wheat. Rye. Rye (Secale cereale) is a grass grown extensively as a grain and as a forage crop.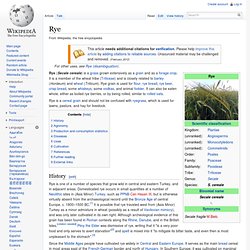 It is a member of the wheat tribe (Triticeae) and is closely related to barley (Hordeum) and wheat (Triticum). Rye grain is used for flour, rye bread, rye beer, crisp bread, some whiskeys, some vodkas, and animal fodder. Wheat. Wheat (Triticum spp.)[1] is a cereal grain, originally from the Levant region of the Near East and Ethiopian Highlands, but now cultivated worldwide.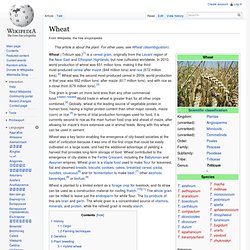 In 2010, world production of wheat was 651 million tons, making it the third most-produced cereal after maize (844 million tons) and rice (672 million tons).[2] Wheat was the second most-produced cereal in 2009; world production in that year was 682 million tons, after maize (817 million tons), and with rice as a close third (679 million tons).[3] This grain is grown on more land area than any other commercial food.
Durum. Genealogy[edit] Durum wheat is a tetraploid wheat, having 28 chromosomes, unlike hard red winter and hard red spring wheats, which are hexaploid and have 42 chromosomes each. Durum wheat originated through intergeneric hybridization and polyploidization involving two diploid grass species: T. urartu (2n = 2x = 14, AA genome) and a B-genome diploid related to Aegilops speltoides (2n = 2x = 14, SS genome)[6] and is thus an allotetraploid species. Uses[edit] Commercially produced dry pasta, or pasta secca, is made almost exclusively from durum semolina.
Certain home made fresh pastas (pasta fresca), such as orecchiette, cavatelli, and malloreddus, also use durum wheat, while others, such as tagliatelle, use only soft wheat, often "00," or a combination of soft and hard wheats. Einkorn wheat. Wild einkorn, Karadag, central Turkey Einkorn wheat (from German Einkorn, literally "single grain") can refer either to the wild species of wheat, Triticum boeoticum, or to the domesticated form, Triticum monococcum.
The wild and domesticated forms are either considered separate species, as here, or as subspecies of T. monococcum. Emmer. Taxonomy[edit] Strong similarities in morphology and genetics show that wild emmer (Triticum dicoccoides Koern.) is the wild ancestor and a crop wild relative of domesticated emmer (Triticum dicoccum). Because wild and domesticated emmer are interfertile with other tetraploid wheats, some taxonomists consider all tetraploid wheats to belong to one species, T. turgidum. Spelt. Spelt, also known as dinkel wheat,[2] or hulled wheat,[2] is a species of wheat cultivated since the fifth millennium BC. Spelt was an important staple in parts of Europe from the Bronze Age to medieval times; it now survives as a relict crop in Central Europe and northern Spain and has found a new market as a health food. Spelt is sometimes considered a subspecies of the closely related species common wheat (T. aestivum), in which case its botanical name is considered to be Triticum aestivum subsp. spelta.
It is a hexaploid wheat, which means it has six sets of chromosomes. Evolution[edit] Genetic evidence shows that spelt wheat can also arise as the result of hybridisation of bread wheat and emmer wheat, although only at some date following the initial Aegilops-tetraploid wheat hybridisation.
---