Cute
It's okay puppy, it's the thought that counts! - StumbleUpon. Humorous, Funny and Cute Animal Photos: Humor Page: Archive. - StumbleUpon. - StumbleUpon. - StumbleUpon. Perls before Swine. Perro Beatbox. Cat vs Hair Dryer - CollegeHumor Video. Cat Loves Water from That Happened! & 50 Random Cute and Funny Pics (part 3) | Simple Deals - StumbleUpon. A dog and his blanket picture, in album: Another 50+ Animated Gifs.
This Cat Just Beat Your Fruit Ninja High Score. A Cats Christmas - StumbleUpon. ( 2nd page added!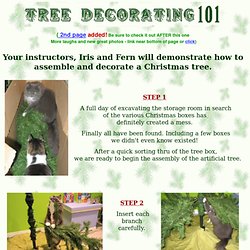 Be sure to check it out AFTER this one More laughs and new great photos - link near bottom of page or click) Your instructors, Iris and Fern will demonstrate how to assemble and decorate a Christmas tree. Animal Humour.
---