Web Design
1408 Top Resources for Designers and Developpers - Agile Designers. s3.amazonaws.com/codecademy-content/courses/ltp/css/bootstrap.css. s3.amazonaws.com/codecademy-content/courses/ltp/css/bootstrap.css. CODING FOR GOOD. Congratulations, you're about to take your first steps to becoming a developer!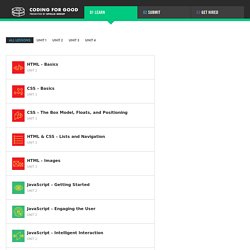 Our team has put together an original learning series that incorporates carefully curated coding tutorials, original hands-on challenges, and super-fun quizzes. In completing each component you will learn an important skill essential to every new coder's success. In this first lesson, you'll learn about HTML, the basic language of the web and how to use it to create a web page introduction of yourself.
Using Javascript to hide and reveal text and graphics by Sean McManus. One of the most useful things you can do with javascript and CSS is to make things appear and disappear when you want to.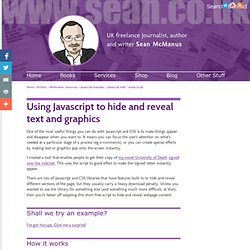 It means you can focus the user's attention on what's needed at a particular stage of a process (eg e-commerce), or you can create special effects by making text or graphics pop onto the screen instantly. I created a tool that enables people to get their copy of my novel University of Death signed over the internet. This uses the script to good effect to make the 'signed' letter instantly appear. There are lots of javascript and CSS libraries that have features built in to hide and reveal different sections of the page, but they usually carry a heavy download penalty. Unless you wanted to use the library for something else (and something much more difficult, at that), then you're better off adapting this short free script to hide and reveal webpage content. Stroll.js - CSS3 Scroll Effects. Image Reveal using jQuery | Yet another twist on my image manipulation kick, I tinkered around with making images larger again.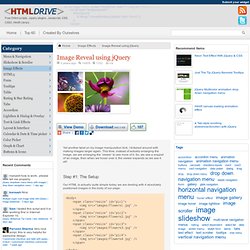 This time, instead of actually enlarging the image, we are enlarging the 'viewer' to see more of it. So, we see a snippet of an image, then when we hover over it, the viewer expands so we see it all! Step #1: The Setup Our HTML is actually quite simple today, we are dealing with 4 absolutely positioned images in the body of our page: Image Reveal using jQuery | HTML5 and CSS3 - Adobe - The Expressive Web - Beta. Wufoo · Online Form Builder! All The Cheat Sheets That A Web Developer Needs. QR Code Generator: QR Stuff Free Online QR Code Creator And Encoder For T-Shirts, Business Cards & Stickers. 30 Free and Premium HTML/CSS Responsive Website Templates. Responsive template are one of the fastest growing trends in web design.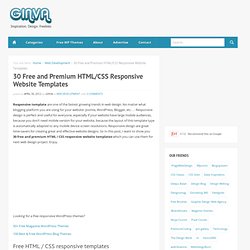 No matter what blogging platform you are using for your website- Joomla, WordPress, Blogger, etc…- Responsive design is perfect and useful for everyone, especially if your website have large mobile audiences, because you don't need mobile version for your website, because the layout of this template type is automatically adapted to any mobile device screen resolutions. Responsive design are great time-savers for creating great and effective website designs. So In this post, I want to show you 30 free and premium HTML / CSS responsive website templates which you can use them for next web design project. ViewLikeUs - Check Sites in Various Resolutions! Favigen: Favicon Generator - The easiest way to create a favicon for your site. Loads.in - test how fast a webpage loads in a real browser from over 50 locations worldwide. PHP Web Design | PHP Website Design | PHP Web Design Company | PHP Website Design Company | Professional PHP Web Design | Dynamic Dreamz.
It's not only imperative to echo the vision and strategy of an enterprise through its website but, it is equally important to engage your potential customers and partners into conversation.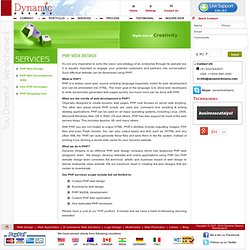 Such effectual website can be developed using PHP! What is PHP? 25 Free Fonts for Your Creative Projects. Microsoft Windows users Click Start, Settings, Control Panel.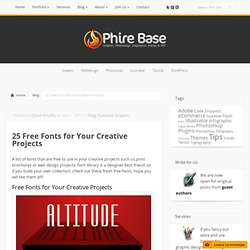 Open the Fonts icon by double clicking the icon. Within the Fonts window you will be able to view each of the currently installed fonts as well as install new fonts. 30 game scripts you can write in PHP, Part 1: Creating 10 fundamental scripts. Getting started As both a game master/storyteller and a developer, I frequently find myself writing little utilities and scripts to help me when running, planning, and playing games.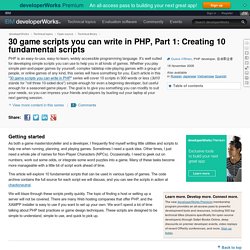 Sometimes I need a quick idea. Other times, I just need a whole pile of names for Non-Player Characters (NPCs). Occasionally, I need to geek out on numbers, work out some odds, or integrate some word puzzles into a game. Many of these tasks become more manageable with a little bit of script work ahead of time. An Advanced Guide to HTML. Learn Advanced HTML&CSS with one useful guide.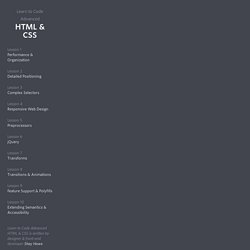 An Advanced Guide to HTML & CSS takes a deeper look at front-end design and development, expanding on what is covered in the beginner's guide. Studying modern front-end development, this guide teaches the latest for any designer looking to round out their front-end skills. Learn Advanced HTML & CSS Created by Shay Howe An Advanced Guide to HTML & CSS is written by designer & front-end developer Shay Howe. A Web Developer's Guide to Photoshop. This is a simple guide for all front-end web developers who are not familiar with Adobe Photoshop to help you make your job easier.
For the rest of you who already know Photoshop, I have some tips and tricks that might help you improve your entire coding process. I think web developers should know as much about design as designers know about HTML/CSS. The designers who send you their PSD usually spend hours on choosing the right colors, designing spacing, typography and all visual effects. Webmaster Tools. Hot Scripts - The net's largest PHP, CGI, Perl, JavaScript and ASP script collection and resource web portal. 108 Best Photoshop Web Designs Layout Tutorials.
Social media. Codecademy Labs. OverAPI.com | Collecting all the cheat sheets. Design. Graphics. Frameworks. Design. Svgweb - Scalable Vector Graphics for Web Browsers using Flash. Overview SVG Web is a JavaScript library which provides SVG support on many browsers, including Internet Explorer, Firefox, and Safari.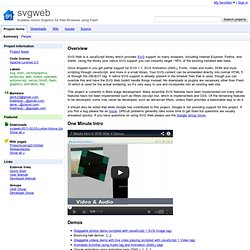 Using the library plus native SVG support you can instantly target ~95% of the existing installed web base. Once dropped in you get partial support for SVG 1.1, SVG Animation (SMIL), Fonts, Video and Audio, DOM and style scripting through JavaScript, and more in a small library. Batik SVG Toolkit. Overview Batik is a Java-based toolkit for applications or applets that want to use images in the Scalable Vector Graphics (SVG) format for various purposes, such as display, generation or manipulation. The project's ambition is to give developers a set of core modules that can be used together or individually to support specific SVG solutions.
Examples of modules are the SVG Parser, the SVG Generator and the SVG DOM. CSS Tutorial. Free CSS templates - Download Free CSS Templates. Awesome CSS3 generators to simplify front end development. CSS3 Generator This generator is definitely one of my favorites, as it allow you to generate more than 10 different CSS3 effects, such as border radius, text shadows, transitions, and more.Visit css3generator.com CSS Gradient generator CSS gradients are cool, but it's also a bit tricky to remind all the possibilities. This generator will help you to create a perfect looking CSS gradient with no headache.Visit CSS Gradient generator. Tutorials. Learn HTML This HTML Tutorial will give you an easy, yet thorough and correct introduction on how to make websites. The tutorial starts from scratch and requires absolutely no prior knowledge of programming.
Online CSS Optimiser / Optimizer. Cascading Style Sheets, level 1. The W3C CSS Validation Service. CSS DropDown Menu Tutorial Page 2. HTML5 Boilerplate - A rock-solid default template for HTML5 awesome. HTML Tutorial. HTML5 Rocks - A resource for open web HTML5 developers. HTML5 Presentations To Help You Get Started with HTML 5. HTML 5 Cheat Sheet (PDF) - Smashing Magazine.
HTML5 Doctor, helping you implement HTML5 today. Layouts. Coding A HTML 5 Layout From Scratch - Smashing Magazine. Don't Fear the Internet. Essential Best Practices And Guidelines That Every Web Developer Should Know About. Tutorials | .net magazine. jQuery. Redirect Mobile Devices. Bulletproofing Your Firefox For Web Design. PHP.
jQuery. Javascript. Beginners JavaScript Tutorial - Javascript Training CD - JS Tuition. Color Scheme Designer 3. Online Color Scheme Generator. Template Beauty.
---