U.S.A. today
Occupy Wall Street | NYC Protest for American Revolution. Globalrevolution. Solyndra employees: Company suffered from mismanagement, heavy spending. As the $344 million factory went up just down the road from the company's leased plant in Fremont, Calif., workers watched as pallets of unsold solar panels stacked up in storage.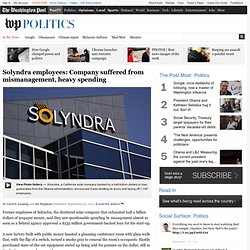 Many wondered: Was the factory needed? "After we got the loan guarantee, they were just spending money left and right," said former Solyndra engineer Lindsey Eastburn. U.S. Cities Criminalize Homelessness, Violate Human Rights Agreements. The challenges poor and homeless Americans often face accessing clean drinking water and restroom facilities violate international human rights standards, according to a report issued by a United Nations investigator this month.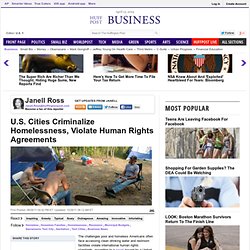 Catarina de Albuquerque, a U.N. Special Rapporteur on the Human Right to Water and Sanitation, visited the United States in late February at the invitation of the U.S. government. She found homeless individuals around the country not only struggle to access running water and restroom facilities but increasingly face criminal and civil sanctions when they improvise solutions. The right to safe drinking water and restroom facilities is a part of the Universal Declaration of Human Rights and the International Covenant on Economic, Social and Cultural Rights.
Live Poor or Die: The New American Retirement. The very idea of retiring in America had become a mirage–tantalizing, but always sliding into the distance.
Those visions of golden years spent playing golf in Tucson or bridge in Boca Raton, promoted by AARP magazine and purveyors of retirement investments, are now nothing more than a chimera for most Americans. The exception, of course, is a wealthy minority, who for the past decade has been squirreling away money they should have been paying in taxes. For everyone else, old age been reduced to three alternatives: Those of us lucky enough to have jobs can keep working indefinitely; the rest can live poor or die. Anyone who doubts this blunt truth should take a look at a few few recent trends. This Manufacturer Can't Find 100 Unemployed Americans With Basic Math Skills To Hire.
---