Managing
Whom Should You Hire at a Startup? (Attitude Over Aptitude)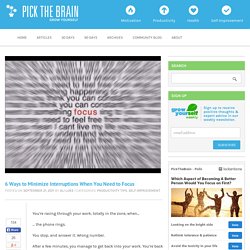 6 Ways to Minimize Interruptions When You Need to Focus
You're racing through your work, totally in the zone, when… … the phone rings. You stop, and answer it.
Free SEO Tools - SEOToolSet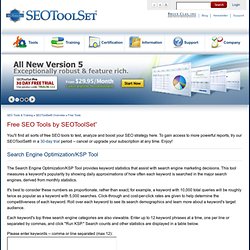 You'll find all sorts of free SEO tools to test, analyze and boost your SEO strategy here. To gain access to more powerful reports, try our SEOToolSet® in a 30-day trial period -- cancel or upgrade your subscription at any time. Enjoy!
Small Business | SohoOS – Online Small and Micro Business Management Platform
"We should start our own business," she said, not knowing what it really entailed. Thoughts of expenses and distant profits danced in my head. Most people don't know what it really takes to start a business. Income flatlines for who knows how long, while your debts increase and you're struggling to find ways to bring in more money.
Why Most Businesses Fail (A Theoretical Model)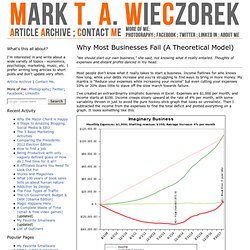 What's Challenging @ Work? » Six Seconds
Maximize Your Odds of Getting What You Want by Minimizing the Work That's Necessary to Help You
Asking for things can be tough, because you pretty much get one chance at it and if you fail you don't get what you want. While that doesn't necessarily spell game over , it does make things a little bit more difficult. Here are a few tips on how to ask for things to improve your chances of getting them. Photo by GabrielaP93 Co-founder of startup Hackruiter and software engineer Nicholas Bergson-Shilcock has found that starting up a new company involves asking for a lot of favors and has learned how to do it well in the process. In a recent blog post he has plenty of helpful advice, but it all really comes down to this: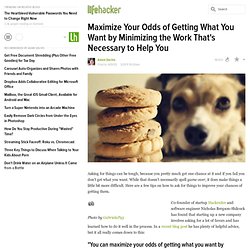 Life:Explained
A boat docked in a tiny Mexican village. An American tourist complimented the Mexican fisherman on the quality of his fish and asked how long it took him to catch them. "Not very long," answered the Mexican. "But then, why didn't you stay out longer and catch more?" asked the American. The Mexican explained that his small catch was sufficient to meet his needs and those of his family.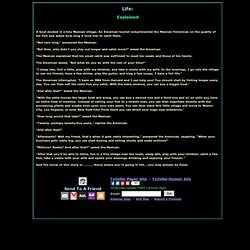 You might not know about, and how they can improve conversions… Unbounce (The DIY Landing Page Platform) let's you easily and quickly build, publish and A/B test landing pages without I.T. – lovely. However, I just noticed that our "Features" section has grown a little out of date.
10 Awesome Unbounce Features You Might Not Know About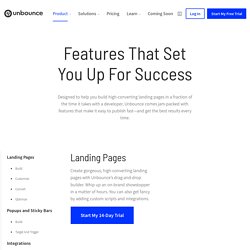 12 Brawny Business Intelligence Products For SMBs -- InformationWeek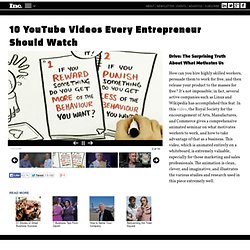 This YouTube video seeks to help aspiring executives prepare themselves to be strong CEO candidates in the future. Professor Joseph Bower from the Harvard Business School believes anyone hoping to hold a corner office someday should be able to ask serious questions—and answer them objectively—about their own work and the work produced by the company. Becoming a CEO is all about constantly learning and improving oneself—and later, others—to establish a true role within a company, instead of merely being a placeholder.
Several years ago, I had a lovely long-term consulting assignment which kept me both busy and solvent. One morning I woke up and realized that it was coming to an end and I had nothing lined up. After a few moments of panic, I decided to get serious about creating my next income source.
Collaboration Software, Manage Group Projects, Group Collaboration, Online Group Management | GroupTable » Blog Archive » GroupTable Upgrades Sneak Peak
GroupTable is a simple collaboration software that helps you easily manage group projects, study groups and all of the other groups of your life. We've listened to our users' feedback and have added many improvements that we list below our demo video. We've also created an easy to use, cross-referenced instruction wiki that you can review by clicking here .
Meeting scheduler
The Big Secret To Success? Run With What You Have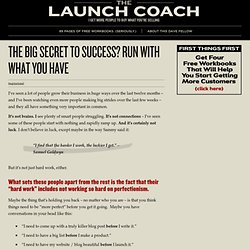 I've seen a lot of people grow their business in huge ways over the last twelve months – and I've been watching even more people making big strides over the last few weeks – and they all have something very important in common. It's not brains. I see plenty of smart people struggling. It's not connections – I've seen some of these people start with nothing and rapidly ramp up. And it's certainly not luck . I don't believe in luck, except maybe in the way Sammy said it:
100 Books You Should Read Instead of Going to Business School » Masters Degree
Learn more about the science of success with Heidi Grant Halvorson's HBR Single , based on this blog post. Why have you been so successful in reaching some of your goals, but not others? If you aren't sure, you are far from alone in your confusion. It turns out that even brilliant, highly accomplished people are pretty lousy when it comes to understanding why they succeed or fail. The intuitive answer — that you are born predisposed to certain talents and lacking in others — is really just one small piece of the puzzle.
The Importance of Goal Setting
Column by Janine Popick, Inc.com " Girl Power Female CEO's " August 5, 2010 Your employees would love to know what they can do to not only be successful themselves, but to help the company succeed. The top goals are usually around revenue, profitability and customer growth. When I started VerticalResponse in 2001, we had 3 employees. And our goals were as follows: to get as much stuff done every day as we possibly could. It's probably not the right way to do things but we were so small and nimble it had to be the way to do it.
Are you thinking of starting a web business? Starting a PPC Management agency? Setting up your own site and selling things, or building a web publishing empire?
The Science of Getting People to Say 'Yes'
In both the business environment and in personal life it is essential to know how to get what you want — and get people to say "Yes" to your requests. But, how do you approach people so that they are more likely to agree to your proposal, sales pitch or ideas? Two researchers, Jonathan Freedman and Scott Fraser, conducted an experiment to find out how to get people to do something they would not normally do. The researchers went door to door in a small neighborhood asking people to put signs outside of their home to "Drive Carefully."
Top Ten Google SEO Ranking Factors