Tips&tricks
How to: pore strips - StumbleUpon. You know those Biore pore strips you buy at the drugstore for about $12 a pop? Yeah, those. Today I'm going to teach you how to make your own homemade pore strips. Why? Because: 50 All Natural Beauty Products You Can Make Yourself - Planet Green - StumbleUpon. Tips & Tricks - Beauty Secrets - StumbleUpon. 25 Beauty Tips Reusing Household Items – Homemade Beauty Tips on ELLE. 1.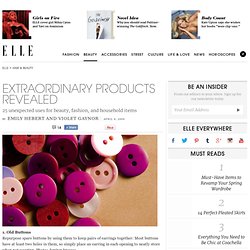 Old Buttons Repurpose spare buttons by using them to keep pairs of earrings together: Most buttons have at least two holes in them, so simply place an earring in each opening to neatly store when not wearing. Photo: Jupiter Images 2.
---