Stuffies
Free Crochet Pattern: Vanna's Choice® Amigurumi Penguin. PENGUIN EYES (make 2)With B, ch 2.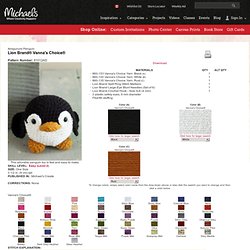 Rnd 1: Work 6 sc in first ch. Rnd 2: 2 sc in each sc around – 12 sc. Fasten off. BODYWith A, ch 2. Ideal Crochet Sphere (Mathematically!) with pattern. Whenever I have to crochet a sphere, I always pull out the tried and true method: increase by the same number of stitches each row for a little while, work the rows even for the middle bit, then decrease by the same number of stitches each row until you're finished.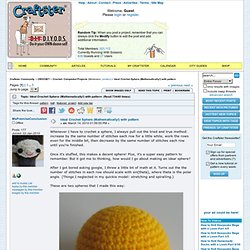 Once it's stuffed, this makes a decent sphere! Plus, it's a super easy pattern to remember. But it got me to thinking, how would I go about making an ideal sphere? Download free amigurumi patterns. Yanaknits. Here is another one in the series of cute crocheted animals - this time it's a giraffe.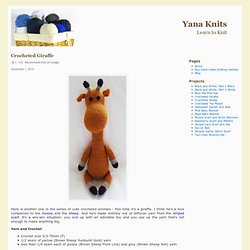 I think he's a nice companion to the moose and the sheep. And he's made entirely out of leftover yarn from the striped scarf. Crochet Sock Monkey. Crochet Sock Monkey Written by Teresa Richardson Video Tutorial: Crochet Sock Monkey Video Tutorial: Left Hand Crochet Sock Monkey Skill Level - Intermediate Abbreviations HDC - Half Double Crochet CH - Chain SL ST - Slip StitchSC DEC - Single Crochet Decrease FSC - Foundation Single CrochetFHDC - Foundation Half Double CrochetFDC - Foundation Double Crochet Materials Size G/4.0 mm crochet hook 4 ply yarn - 3 colors - Colors of your choice.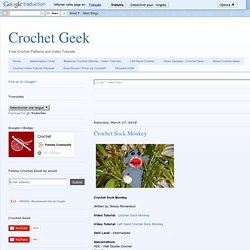 Tapestry NeedlePolyester Fiberfill or stuffing of your choice.
---