Crafts to do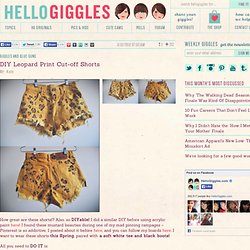 DIY Leopard Print Cut-off Shorts
How great are these shorts!? Also, so DIYable! I did a similar DIY before using acrylic paint here!
With Earth Day just around the corner, we're turning to artist and environmentalist Chris Jordan for inspiration. In this large-zoom photograph he has captured 1.14 million brown paper supermarket bags, the number used in the US every hour. And did you know that 2.7 billion plastic bags are used every day worldwide? Floored by these staggering numbers we were motivated to do a quick and easy DIY, recycling an old t-shirt into a reusable fringed market bag.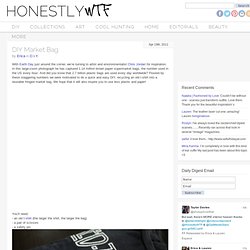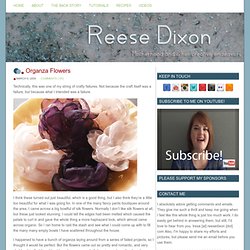 Technically, this was one of my string of crafty failures. Not because the craft itself was a failure, but because what I intended was a failure. I think these turned out just beautiful, which is a good thing, but I also think they're a little too beautiful for what I was going for.
Organza Flowers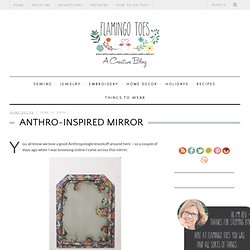 You all know we love a good Anthropologie knockoff around here – so a couple of days ago when I was browsing online I came across this mirror. Oh I definitely need that. Hold the presses – did that say $498??? Huh.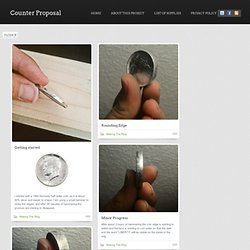 At some point last year a roaming Sacajawea coin crossed paths with JP and would not leave his person for some time after. It accompanied him in his travels across the US, seeing at least 15 states and hundreds of thousands of miles. We dubbed the migratory currency "The Coin of Truth" for its decision-making ability with respect to heads and tails assigned options. Used on everything from business decisions to restaurant options, the coin of truth functioned on one simple premise – the user must observe the decision of the coin. The coin continued to draw power from our regard, until the day we asked it whether or not it liked being with JP. A sense of foredoom set in when the coin flipped a conclusive "no".
[ Close Privacy Policy ] Privacy Policy / Your California Privacy Rights Revised and posted as of March 4, 2013 Prime Publishing, LLC ("Company," "we" or "us") reserves the right to revise this Privacy Policy at any time simply by posting such revision, so we encourage you to review it periodically. In order to track any changes to this Privacy Policy, we will include a historical reference at the top of this document.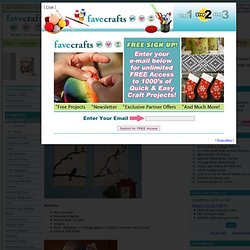 By Kate on February 4, 2011 Did you know you can make great invisible ink from lemon juice? Armed with this new bit of knowledge I put my thinking cap on and came up with the idea that invisible ink + message in bottle = cool valentines day gift! The invisible ink bit is easy…simply squeeze a lemon and use the juice to write a message on a piece of white paper. I don't have a dip pen so just ended up using a q-tip (cotton bud).