jQuery
Best jQuery Slider Pulse Blinds Demo
jQuery: Custom Animation Part 1 [Video Tutorial]
Table Drag and Drop JQuery plugin | Isocra
Why have another plugin? Dragging and dropping rows within a table can't be handled by general purpose drag and drop utilities for a number of reasons, not least because you need to move the whole row, not just the cell that receives the mouse events. Re-parenting the row also requires specific code. Sadly also, effects like fadeIn and fadeOut don't work well with table rows on all browsers, so we have to go for simpler effects.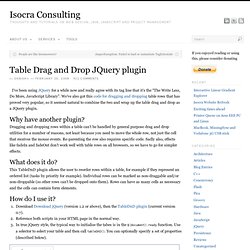 jQuery's Data Method – How and Why to Use It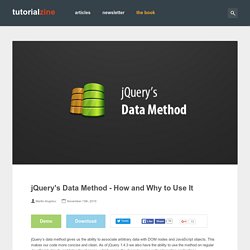 jQuery's data method gives us the ability to associate arbitrary data with DOM nodes and JavaScript objects. This makes our code more concise and clean.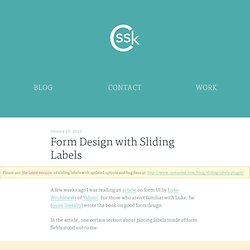 A few weeks ago I was reading an article on form UI by Luke Wroblewski of Yahoo! .