jQuery
Best jQuery Slider Pulse Blinds Demo. Apr 11, 2014 Book effect in jquery image slider tutorial Hello!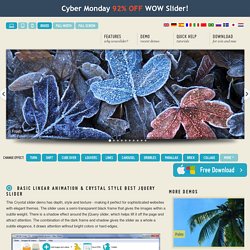 I saw your demo of the book and I would like to replicate that. I was able to add images and it looked like the book. Table Drag and Drop JQuery plugin | Isocra. Why have another plugin?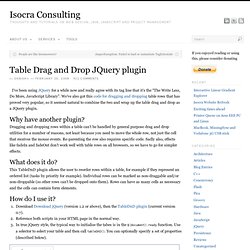 Dragging and dropping rows within a table can't be handled by general purpose drag and drop utilities for a number of reasons, not least because you need to move the whole row, not just the cell that receives the mouse events. Re-parenting the row also requires specific code. Sadly also, effects like fadeIn and fadeOut don't work well with table rows on all browsers, so we have to go for simpler effects. jQuery's Data Method – How and Why to Use It. Martin Angelov jQuery's data method gives us the ability to associate arbitrary data with DOM nodes and JavaScript objects.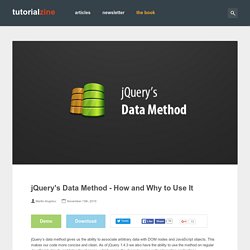 This makes our code more concise and clean. As of jQuery 1.4.3 we also have the ability to use the method on regular JavaScript objects and listen for changes, which opens the doors to some quite interesting applications. The Basics You can call the data method on a jQuery object, or you can use the $.data() function instead. Form Design with Sliding Labels « CSSKarma.
A few weeks ago I was reading an article on form UI by Luke Wroblewski of Yahoo!.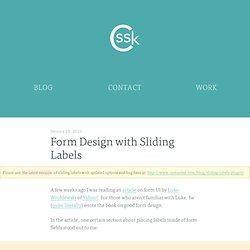 For those who aren't familiar with Luke, he (quite literally) wrote the book on good form design. In the article, one certain section about placing labels inside of form fields stood out to me: Because labels within fields need to go away when people are entering their answer into an input field, the context for the answer is gone. So if you suddenly forget what question you're answering, tough luck—the label is nowhere to be found. As such, labels within inputs aren't a good solution for long or even medium-length forms.
---