Music
The Top 50 Youtube Guitar Channels covers lessons, magazines, manufacturers, guitar stores, reviews, guitarists, and pretty much everything guitar centric. All of the channels below had reached at least 2 million total views by March of 2012. Our focus was on channels producing high quality guitar videos at regular intervals. 1. GuitarJamz.com #1 ( martyzsongs ) 155,460,210 views – guitar tabs 2. NextLevelGuitar.com ( rockongoodpeople ) 99,932,874 views – guitar lessons 3.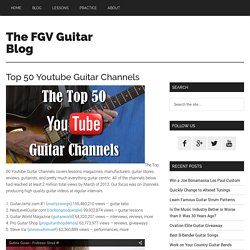 Bidominant (D) - alle har ret til en dominant Når man bruger en dominant , spiller man på, at en akkord leder hen imod en anden akkord: dominanten i en toneart leder til Tonika . Dominanten er durakkorden en kvint over tonika, både i dur og mol . Men dominantideen kan også bruges ved andre akkorder end tonika, alle akkorder kan have deres lokale dominant foran sig, nemlig durakkorden en kvint over den pågældende akkord. En sådan lokal dominant kaldes for bidominant , og forkortes (D) . Et eksempel på brug af en bidominant ses i starten af »Georgia«, her i C-dur:
JJ: Musikkurser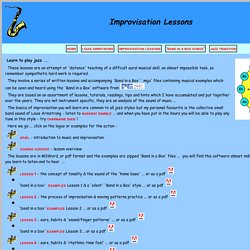 Improvisation Lessons
Learn to play jazz ... These lessons are an attempt at 'distance' teaching of a difficult aural musical skill, an almost impossible task, so remember sympathetic hard work is required. They involve a series of written lessons and accompanying 'Band in a Box' '.mgu' files containing musical examples which can be seen and heard using the 'Band in a Box' software. They are based on an assortment of lessons, tutorials, readings, tips and hints which I have accumulated and put together over the years. They are not instrument specific, they are an analysis of the sound of music ...
Forside
Learning and Loving Music Theory
Harmonic Functions - The Tonic
Besides writing and playing songs I just love improvising. When I practice improvising I always first pour myself a cup of green tea, I put on some folk music (e.g. Ray La Montagne, Damien Rice, Stephen Fretwell, Glen Hansard, Sheryl Crow, etc.) on Last.fm or Spotify.com and then I start to improvise over these songs. I get totally caught up in the moment and let my fingers carry me away. Other times I practice melodic patterns, triads, arpeggios, licks, everything that will spice up my improvisation skills.