Graff inspi
The Photoshop Etiquette Manifesto for Web Designers
Mathias Sterner — Photography
Coffee made me do it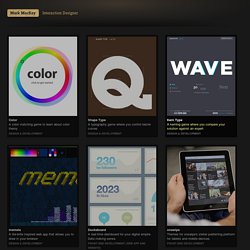 Mark MacKay - Portfolio
I enjoy the agile pace of start-ups, and I work well with hackers and engineers. I am very passionate about my craft and I expect the same from the people I work with. I'm currently in Playa del Carmen bootstrapping my own little startup, Method of Action, a website to learn design. I'm taking select freelance projects in design and front-end development, if you you'd like to chat about anything, just get in touch at mark@duopixel.com.
Peter and Paul
Amanita Design
zLabor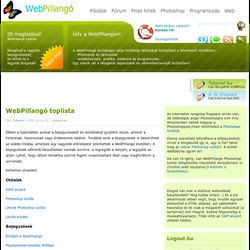 WebPillangó toplista | WebPillangó
Írta: Tupacko | 2009. június 20. | kategóriák: Ebben a toplistában azokat a bejegyzéseket és aloldalakat gyűjtöm össze, amiket a fontosnak, hasznosnak vagy érdekesnek találok. Továbbá azok a bejegyzések is bekerülnek az alábbi listába, amelyek egy nagyobb előrelépést jelentettek a WebPillangó életében. A bejegyzések időrendi beosztásban vannak sorolva: a legrégibb a tetején, a legújabb az alján.
Tervezz webre! Trendek és inspiráció | Designpirates
A weboldaltervezés nem csak egy grafikából és pár sor kódból áll. Ma már nem lehet egy minimum felbontásra optimalizálni, hiszen teljesen különböző méreteken fogyasztják azt, amit tervezünk. 2011 van, "the future is now". A jó tartalomért jönnek vissza a látogatók, ez az elsődleges és legfontosabb dolog. A második, hogy ez könnyen kezelhető legyen, logikusan "magától érthetően" tudják használni.
Band Job :: Music Art & Awesome Design :: Projects
Mivel eme csoda kicsiny országunk egy nemes tagjának találmánya ezért egy egész giga posztot szentelnénk neki. Leginkább annak, hogy miféle variációk keltek szárnyra feltalálása óta. S mivel mi ilyen kis Crazy Art Blog vagyunk [by s.eprus] ezért nem inkább azzal foglalkoznánk, hogy most már van virtuális 1000*1000 oldalú rubik hanem, hogy van egy rakás jól kinéző typo rubik, meg rubik vakoknak, meg rubik ami szimplán szép.
Rubik Post - LisztesLáda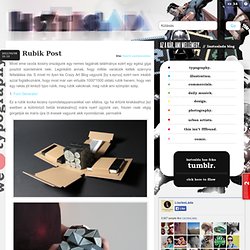 Heather Gatley - LisztesLáda
The Best Designs / Best Web Design Awards & CSS Gallery
KARB - Digital Fireworks
Illustrator | Blogzóna | VENTOSA kreatív stúdió