Hotgreen
Xavier TREMOUILLE
Bonheur psychologie et philosophie e
Festival International d'Art Numérique d'Epinaldu 26 avril au 1er mai 2011
Digital art international: the international portal & community dedicated to digital art.
Arborescence - festival d'arts numériques - Digital Arts festival
ARTISTES - ART Contemporain
art moderne et contemporain
DECROISSANCE ou retour en humanie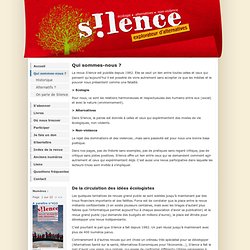 Revue S!lence- Qui sommes-nous ?
Qui sommes-nous ? La revue S!lence est publiée depuis 1982. Elle se veut un lien entre toutes celles et ceux qui pensent qu'aujourd'hui il est possible de vivre autrement sans accepter ce que les médias et le pouvoir nous présentent comme une fatalité.
Crise du capitalisme: André Gorz avait tout compris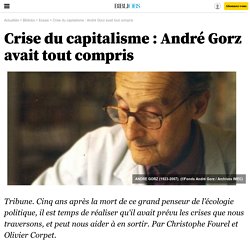 Penser la sortie du capitalisme avec André Gorz Il y a cinq ans, le lundi 24 septembre 2007, une dépêche de l'AFP annonçait en fin d'après-midi que le philosophe André Gorz s'était suicidé en compagnie de sa femme. La nouvelle était presque passée inaperçue, même si le suicide d'un couple «main dans la main» n'est pas chose banale. Ce qui l'était encore moins, c'est qu'André Gorz avait eu la délicatesse de laisser entrevoir cette issue à ses lecteurs un an auparavant. «Nous aimerions chacun ne pas avoir à survivre à la mort de l'autre», écrivait-il à l'automne 2006 dans «Lettre à D.» (éd.
Le vélo à 7 euros
Izhar Gafni est un designer israélien passionné de vélo qui a créé un vélo en carton appelé Alfa. L'Alfa pèse seulement 9 kg, mais est conçu pour supporter le poids d'un cycliste pouvant dépasser 200 kg! Il s'agit d'un vélo réalisé principalement à partir de carton recyclé.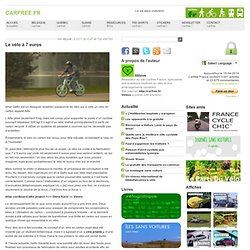 Carfree.fr
city 2.0 / ville de demain
Bonsai soil, recommended mixtures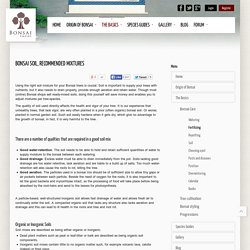 Using the right soil mixture for your Bonsai trees is crucial. Soil is important to supply your trees with nutrients, but it also needs to drain properly, provide enough aeration and retain water. Though most (online) Bonsai shops sell ready-mixed soils, doing this yourself will save money and enables you to adjust mixtures per tree-species.
Flowering & Fruiting Trees
The trees shown in this category are all flowering bonsai trees of different varieties. Most are tropical or sub-tropical indoor trees, however, some are temperate or outdoor trees. When making your selection, please review the tree description and "features" copy to learn how your tree is classified.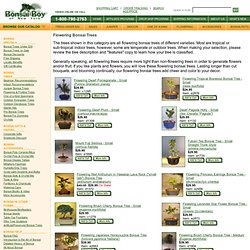 Growing Bonsai moss
Details Written by Oscar Besides a pot, there are several attributes that are important to enhance the visual display of a Bonsai tree. Covering the surface of the soil with moss is one of these, a practice very common especially when displaying bonsai trees at exhibitions.
Over the years many styles to classify Bonsai trees have been advanced, closely resembling circumstances in nature. These styles are open to personal interpretation and creativity, meaning that trees do not necessarily need to conform to any form. Still, the styles are important to gain a basic understanding of shapes and should serve as guidelines to successfully train miniature trees. Bonsai styles movie The Bonsai styles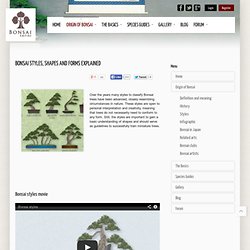 Bonsai styles, shapes and forms explained
Bonsai Trees
A bonsai, literally translated to "tree in a pot", is simply a potted miniature version of its normal sized counterpart. Originating from China and Japan, bonsai trees were originally cultivated from trees growing in the wild. Over time, the practice of bonsai trees gained popularity as an art form. Perhaps, the beauty and discipline of bonsai trees stemmed from the desire to control something as grand as a large tree into such a small pot. The hobby of bonsai trees migrated to the West and quickly became a hobby because of the various methods of training and shaping a bonsai tree.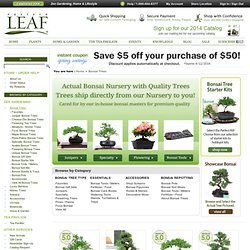 AiKi Bonsai Gallery
Ministère du Développement durable
Réseaux d'information sur l'environnement
Rigpa International
Rigpa | Lerab Ling
Chemin spirituel et bonheur
Percutant, intransigeant, Jiddu Krishnamurti (1895-1986) est la figure même du sage révolutionnaire. Sa parole est fondée sur la conviction qu'un véritable changement dans la société ne peut émerger que d'un bouleversement radical de l'individu. Car la vraie liberté passe par une profonde mutation intérieure que ni les religions, ni l'athéisme, ni les idéologies ne sont capables de produire. Ayant rejeté les différents conditionnements où il fut lui-même pris, Krishnamurti nous exhorte à penser par nous-mêmes avec indépendance et clarté, à nous libérer des "cages" qui nous contiennent et des filtres qui déforment notre vision de la réalité, afin de tracer notre propre sillage plutôt que de suivre celui d'autrui, qu'il soit maître à penser ou gourou.
Krishnamurti - Krishnamurti