Toys
Update : I have contacted our Chinese speaking DIY:happy operative Shana from iRocks for a more accurate translation. Turns out I was way off, so check out the updated and translated instructions. How to build a Mosquito trap.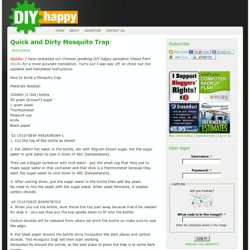 Quick and Dirty Mosquito Trap | DIY:happy
Chemistry - Matter, Atoms, & more
1. XP Math is a good place to find math games, math videos, math worksheets, and math e-books. The games section of XP Math offers games for basic arithmetic, algebra, geometry, and probability. Create an account on XP Math and you can keep track of your scores. 2.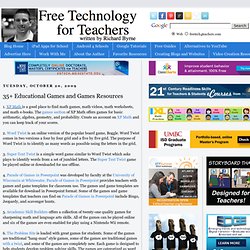 Dorkbot Seattle
Air Swimmers - Coming Soon
Virtual ChemBook
College: Demonstrations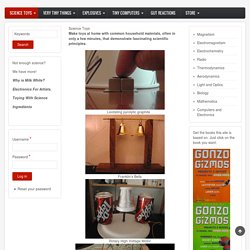 Science Toys Make toys at home with common household materials, often in only a few minutes, that demonstrate fascinating scientific principles. To make it easier to build some of the toys described in the book we have a catalog of parts and science kits. Some of the catalog items are:
Interesting/educational Good time wasters Geocaching The VICE Commodore Emulator Emulates the PET, VIC 20, and Commodore 64. You can ftp the ROMs, too. Java Fiver Game Also you can read about the theory behind it.
Make: Online : Modular stackable Arduino enclosure
3rd USA Science & Engineering Festival2014-04-09 - This will be the 3rd USA Science & Engineering Festival -- a fun, entertaining, educational and FREE event in Washington, DC. This event is analogous to an art, music or food Festival, but it is focused on Science and Engineering. There will be over 3,000 hands-on activities and over 150 stage shows. And --- while having fun --- participants can leave with info about scholarships, internships, jobs and more. Read more...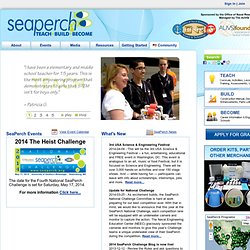 Home Page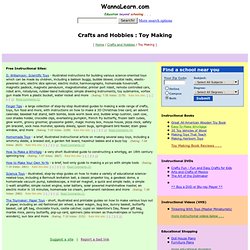 Free Instructional Sites: D. Williamson: Scientific Toys - illustrated instructions for building various science-oriented toys which can be made by children, including a balloon buggy, bubble blower, crystal radio, elastic-powered cars, electric dice spinner, electric motor, harmonographs, homemade hovercraft, magnetic padlock, magnetic pendulum, magnetometer, printer port robot, remote controlled cars, robot arm, rotodynes, rubber-band helicopter, simple drawing instruments, toy submarine, vortex gun made from a plastic bucket, water rocket and more (Rating: 7.04 Votes: 2139)
Crafts and Hobbies : Toy Making
More than 400 invited guests attended the opening event of The Art Hunter in Sydney on Tuesday night. The Art Hunter launch is a collaboration between The Cool Hunter and Jaguar, and the opening night was also the Australian debut of the spectacular Jaguar C-X17 concept car. To present The Art Hunter, we engaged our dream team of collaborators, led by the incomparable Natalie Longeon and Peter Pengly from The Artistry (they designed and executed our Summer Lovers Rotate store as well), to transform a 500 m2 warehouse in Alexandria into a genuinely exciting, temporary three-week art exhibition experience.