Lists/refs
OR PHONE (866) 635-1838 for Bankruptcy Help, (866) 635-6190 for Divorce, (866) 635-2689 for Personal Injury or (866) 635-9402 for Criminal Defense Find a Local Lawyer Bankruptcy (866) 635-1838 Divorce (866) 635-6190 Personal Injury (866) 635-2689 Criminal Defense (866) 635-9402 Patent Law Patent Troll Tracker
Patent Troll Tracker: Patent Law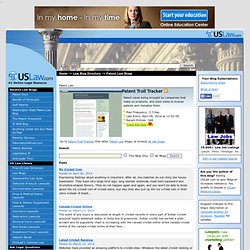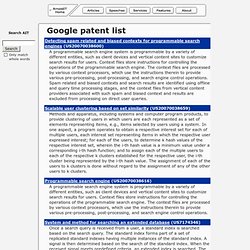 A programmable search engine system is programmable by a variety of different entities, such as client devices and vertical content sites to customize search results for users. Context files store instructions for controlling the operations of the programmable search engine. The context files are processed by various context processors, which use the instructions therein to provide various pre-processing, post-processing, and search engine control operations. Spam related and biased contexts and search results are identified using offline and query time processing stages, and the context files from vertical content providers associated with such spam and biased context and results are excluded from processing on direct user queries.
Google Patents :: ArnoldIT
BitLaw: A Resource on Technology Law
You do not have permission to view this directory or page using the credentials that you supplied because your Web browser is sending a WWW-Authenticate header field that the Web server is not configured to accept. Please try the following: Contact the Web site administrator if you believe you should be able to view this directory or page. Click the Refresh button to try again with different credentials. Technical Information (for support personnel) Go to Microsoft Product Support Services and perform a title search for the words HTTP and 401 .
Web Publisher
Available CFR Titles on GPO Acce
MicroPatent