CA
Information Management Systems & Services
Swartz Center for Computational Neuroscience
ISR Software Engineering and Information Technology Research
Software Architecture Software architecture is a major research thrust within ISR, and permeates many of the other research foci. ISR's research in software architecture is directed at reducing the cost of application development by focusing attention on critical design issues and increasing the potential for reuse among systems in closely related product families. ISR's work in software architecture provides style-based design guidance, component-based architectural composition, architectural visualization and analysis, system generation capabilities, modification of systems at runtime, and architecture-based rationale capture and delivery. Most recently, research has focused on CREST – an architectural style based on computational exchange as the fundamental construct for decentralized/distributed applications.
Center for Neural Engineering: Site Home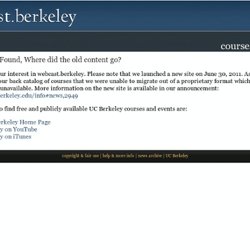 404, File Not Found, Where did the old content go? Thank you for your interest in webcast.berkeley. Please note that we launched a new site on June 30, 2011.
UC SAN DIEGO NEWS CENTER
UC Irvine TODAY