Blogher
BlogHer '13 Call for Ideas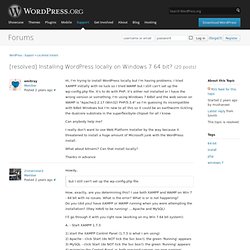 Support » Installing WordPress locally on Windows 7 64 bit?
Howdy, but I still can't set up the wp-config.php file. How, exactly, are you determining this? I use both XAMPP and WAMP on Win 7 - 64 bit with no issues.
Job Board
Tweet Grid
BlogHer
Reaching 55 million women each month, BlogHer is the leading cross-platform media network created by, for and with women social media leaders.* BlogHer created and leads the marketplace with the most robust economic and networking opportunities for women in social media and brands seeking to influence them. Today BlogHer publishes and syndicates news, information, advice, recommendations to and from over 3,000 premium blogs, paying writers via revenue share, delivers uniquely insightful research on women in social media and curates a daily news service, BlogHer.com.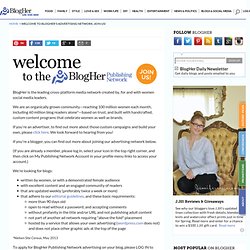 Publishing Network
Blogger Templates
New Ways to Earn Money From Your Influence: With BlogHer Economy 2012+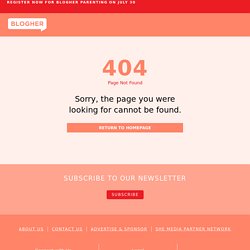 At the closing keynote of the BlogHer '12 conference Saturday, Elisa, Jory (in absentia) and I announced that from 2009 to 2011, BlogHer Inc. has paid out $17 million to 4,250 women—and men!—who write blogs and are influential in social media. We are so proud to have been able to make a real difference in your lives during a recession economy—and to announce even more opportunities to support yourself with BlogHer—starting today! Read on below to learn how BlogHer's network and services are expanding in order to embrace ALL your social media influence—blogs, video, mobile, Twitter, Pinterest, and whatEVer is next around the corner—to help you accomplish your goals financially, professionally, personally..
One2One Network: Connecting Brands with Women and Moms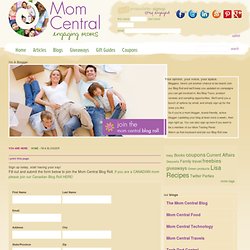 I'm A Blogger
connect with us connect to facebook connect to twitter connect to in connect to rss feed connect to pintrest connect to google plus I'm A Blogger You are here:
Mobile offers complete protection from mobile security and privacy threats.
Our mobile security leaders are here to protect you. Dr. Henry Lin Co-founder, Chairman and Co-Chief Executive Officer Dr.
In 2005, actor Morgan Freeman won the rights to use the domain name www.morganfreeman.com , which was being illegally used by the company Mighty LLC. Freeman applied for a trademark from the US Patent and Trademark Office when he found out that Mighty LLC was using his domain name "in bad faith to divert Internet traffic to a commercial search engine." Ultimately, the arbitrators for the World Intellectual Property Organization (WIPO), the intellectual property arm of the United Nations, agreed with Freeman and determined that Freeman's illustrious career made his name sufficiently recognizable in the entertainment and movie spheres. In the always-evolving electronic age, many famous personalities use trademark law to protect the use of their names over the Internet. Trademark law, which prevents confusion between certain goods or services by indicating the source of the trademark, also allows someone to recover a domain name containing their trademark.
Should You Trademark Your Name? | LegalZoom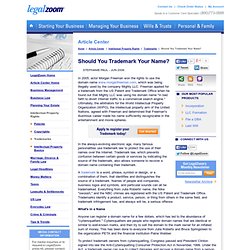 Facebook comment box is one of the useful tool for bloggers to increase conversations. Recently Facebook has launched many social plugins for bloggers and web developers and one such is improved Facebook comment box. So here in this post I will teach you how to add/integrate Facebook comment box to blogger in simple steps. Before getting into the process I recommend you to back up your template and previous comments in blogger wont be visible if you use Facebook commenting system.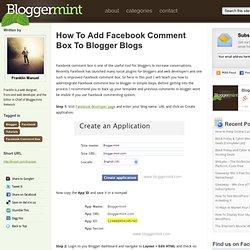 How To Add Facebook Comment Box To Blogger Blogs
You can establish rights in a mark based on legitimate use of the mark. However, owning a Federal trademark registration on the Principal Register provides several advantages, including the following: Constructive notice to the public of the registrant's claim of ownership of the mark; A legal presumption of the registrant's ownership of the mark and the registrant's exclusive right to use the mark nationwide on or in connection with the goods and/or services listed in the registration; The ability to bring an action concerning the mark in Federal court; The use of the U.S. registration as a basis to obtain registration in foreign countries; and The ability to file the U.S. registration with U.S. Customs and Border Protection to prevent importation of infringing foreign goods.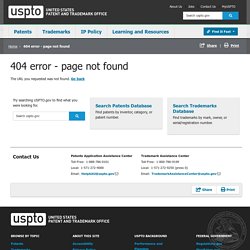 Small business - Trademark Registration - Conduct a Trademark Search for Registered Trademarks - USPTO Stopfakes.gov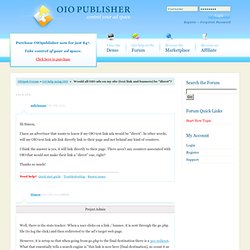 Would all OIO ads on my site (text link and banners) be "direct"? - OIOpublisher Forum
Actually, it is possible to turn it off for a single ad (but only via editing the database directly). Let me see if I can quickly stick the option in the admin editor, then you can just keep the stats on by default and if anyone requests them to be turned off for their ad, you can do so. PS. in my opinion, it doesn't harm SEO to use the tracker, due to the 301 redirect. Others may disagree, but it is the accepted standard for passing SEO from one link to another. eg. if you change your domain name, you can redirect all links from the old name to the new one using a 301 redirect. Need help?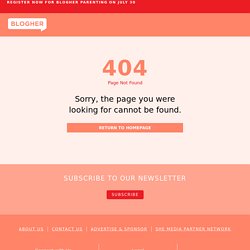 Join Us for a Fabulous Friday Night! Search. Book.
Search. Book. Relax…The Room Key Way
Conference Promotions
President Barack Obama LIVE via Video at BlogHer '12!
Today we are honored to announce that President Barack Obama will address the BlogHer '12 audience at 4:30PM Thursday, August 2, via live video feed. We will gather in the Grand Ballroom at the New York Hilton to hear from the president live, and understand why he has chosen to make this rare conference appearance. We will be recording the video and posting it as soon as we can post-appearance. All conference passes, from day passes to party and/or expo passes to full passes will be granted admission to this special event. [And you can still register here .] As an non-partisan organization, BlogHer issued invitations to both the Republican and Democratic campaigns, and both presidential candidates specifically, to speak at the conference and publish on BlogHer.com.
Will you find yourself in New York City this Saturday, August 4? And, if you also happen to be attending the fantastic BlogHer conference, how about concluding the event with a grand finale? By grand finale, we mean our party. One where you will party with people your own age! Indeed, we are inviting B(L)oomer Influencers (aka female bloggers ages 45+ only, thankyouverymuch.
B(L)oomers Party™ in NYC on August 4, 2012 – for Baby Boomer Bloggers Only! | The Succulent Wife
cdn.e2ma.net/userdata/1363296/assets/docs/Pfizer_scavenger_hunt_v9_5_FINAL.pdf
You don't need a private party invite to enjoy fun, pampering, and goodies. Check out just a glimpse of what you will find in the BlogHer12 Expo Hall and all you need is your BlogHer Badge to get in!! Don't forget the BlogHer Official Expo Hall Party is Thursday Night from 6PM - 8PM and offers activities, prizes and entertainment. Other than that, the Expo Hall is usually open all day during the conference days. CouponCabin Booth will have Kate Gosselin there on Friday from 11a-1p and 3p-5p for photo opps. Eden Fantasy Booth will be giving out super sexy swag when you enter the daily drawings for prizes.
CB Mommy: Get Your Fun On in the BlogHer12 Expo Hall and Suites
What kind of relationship do you have with your money? Tell us and you could win
NOTE: This post is for informational purposes only. For events that are invite-only or sold out, please respect event organizers by not overwhelming their email boxes, Twitter handles, etc. Space is limited for most parties and events, with the exception of the BlogHer official parties.
Official and Unofficial Parties During BlogHer '12 #BlogHer12
We're here with the BlogHer '12 Party Announcement! It seems like just yesterday we were in San Diego learning and playing, time does go by fast but before we take too much time thinking of the past I want to guide you to the future -- BlogHer '12 Community Parties and More! Following with recent tradition these Community Parties (official BlogHer parties) will take place at the Hilton New York and once again, will be OPEN to BlogHer attendees with a badge. Without further ado: The BlogHer '12 Official Party Plan:
Announcing: BlogHer '12 Party Plan!
Submissions to JISAR - Journal of Information Systems Applied Research
WT00880 - Website Templates
Blogger Softy - Download Free Blogger Template
Apple iPad 3 Giveaway!