College
We made it to the Top 49 Charities in San Francisco for the 7×7 online contest!VOTE now and everyday to get us to the next level to guarantee $2,000. Students Rising Above invests in low-income, first generation college students who have demonstrated a deep commitment to education and strength of character in overcoming tremendous odds of poverty, homelessness, and neglect. We help each student to realize his or her potential by guiding and supporting them through college graduation, and into the workforce. Our graduates are breaking the cycle of poverty within their own families, serving their communities, providing a new generation of employees and leaders from diverse backgrounds, and accelerating positive change.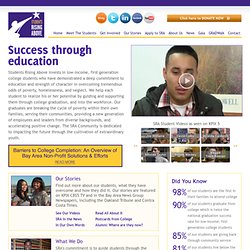 Success Through Education - Students Rising Above <sup>℠</sup>
CaliforniaColleges
CSnav
Career
CSUMentor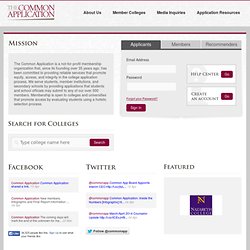 The Common Application is a not-for-profit membership organization that, since its founding over 35 years ago, has been committed to providing reliable services that promote equity, access, and integrity in the college application process. We serve students, member institutions, and secondary schools by providing applications that students and school officials may submit to any of our over 500 members. Membership is open to colleges and universities that promote access by evaluating students using a holistic selection process.
Apply online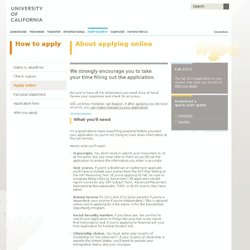 We strongly encourage you to take your time filling out the application. Be sure to have all the information you need close at hand. Review your responses and check for accuracy. Still, we know mistakes can happen.