Music
Sing! Day of song - Bobby McFerrin - Improvisation
The Mountain Goats - This Year (Video)
Brand New - Guernica W/ Lyrics
Los Campesinos - You! Me! Dancing!
Come see us on Tour! http://smarturl.it/tpgtourSign up for our TPG Insider! http://thepianoguys.com/newsDownload song here: http://smarturl.it/Audio_Mi...Sheet Music!
ThePianoGuys Official Channel
Atmosphere - Guarantees
MACKLEMORE & RYAN LEWIS - THRIFT SHOP FEAT. WANZ (OFFICIAL VIDEO)
Dream Music: Part 2
Röyksopp - The Girl And The Robot (Spencer & Hill Remix) [HQ]
Cloud: What You Want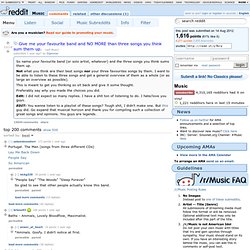 So name your favourite band (or solo artist, whatever) and the three songs you think sums them up. Not what you think are their best songs nor your three favourites songs by them. I want to be able to listen to these three songs and get a general overview of them as a whole (or as large an overview as possible). This is meant to get you thinking so sit back and give it some thought.
Give me your favourite band and NO MORE than three songs you think sum them up. : Music
Explosions in the Sky - First Breath After Coma [HQ]
Daft Punk Meets Metal
Goldfish - We Come Together (OFFICIAL)
PogoMix.net will be back soon!
Johnny Cash - God's Gonna Cut You Down
Bombay Bicycle Club - Beg
Flobots - Rise
Deftones - Passenger (ft. Maynard James Keenan)
Electric Six - "Danger! High Voltage" (Hi Res)
Ricky - Gotye - Somebody I Used To Know - ft. DMF & Kait Weston (Collab)
Noah Cover of "Sexy and I Know It" by LMFAO
Rolling In The Deep (Adele) - Linkin Park
Gnarls Barkley - Going On
Elise Amendola/Associated Press What do you look to when you need to get pumped up during warm ups pregame or to lift weights? The most effective option for many athletes is to play music. Football, basketball, baseball, hockey, track and soccer, yes, even soccer players, can harness the adrenaline rush they trigger listening to these songs to receive a physical edge during competition.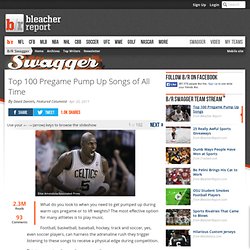 98. Out Here Grindin': DJ Khaled | Top 100 Pregame Pump Up Songs of All Time
Beastie Boys - Make Some Noise
Simon & Garfunkel Scarborough Fair
The Velvet Underground - I'll Be Your Mirror
deftones-change
Travelling - Paper Lions
Gotye - Bronte - official film clip (HD)
The Boy Who Trapped The Sun - Copper Down
The Tallest Man On Earth - The Dreamer
Future of Forestry - Close Your Eyes
Mumford & Sons, Laura Marling & Dharohar Project - Devil's Spoke / Sneh Ko Marg
Mumford & Sons - White Blank Page
The Head and the Heart - Lost In My Mind
The Head and the Heart - Rivers and Roads
The Head And The Heart - Honey Come Home
Sufjan Stevens - Chicago
R.E.M. - Losing My Religion (Video)
Chicago (Acoustic) - Sufjan Stevens
Sufjan Stevens - Seven Swans
Laura Marling - New Romantic
Modest Mouse - The world at large Lyrics
Punch Brothers - Soon or Never
We Are Trees - Sunrise Sunset
White Flight - Dream Lover
Amon Duul II - Cerberus
Two Steps from Hell - Protectors of the Earth
The Best Pessimist - Walking With Happiness
Nujabes - Lady Brown
Mac Miller - Thoughts From A Balcony
Kanye West - Lost in the World (Music Video)
(OFFICAL VIDEO) Kanye West and Jay Z - No Church In The Wild
Circus Fire - Unlimited Gravity
Miami Horror - Imagination (official "Illumination" album listening post)
Sleep Party People - I'm Not Human At All
Papercut - Black Dog
Little People - Unsaid
Washed Out - You And I
Electric Litany-Don't Fear The War
God Is An Astronaut - Remembrance Day
Melorman - Inside Your Dream
Empire Of The Sun - We Are The People
M83 - Midnight City
The Three Corners of The Earth - The Fire Shall Devour Us
The MashMaticians - Lisztomania 2
The MashMaticians - Lisztomania 2
The Dean's List - La Vie
MGMT vs. Daft Punk vs. Passion Pit vs. Gorillaz vs. Bob Marley
Sing, SIng, Sing - Benny Goodman
Moody Blues - "Nights In White Satin" (1967)
Ennio Morricone The Ecstasy of Gold.
I Don't Want To Set The World On Fire-The Ink Spots
Dave Brubeck - Take Five - 1966
Charles Mingus - Moanin'
Miles Davis - Bitches Brew
The Artist main theme - George Valentin ( Ludovic Bource )
Turnabout Jazz Soul - Track 8 - Godot - The Fragrance of Dark Coffee
Slow Club - Two Cousins
The Miracles - Shop Around
Slow Club - Trophy Room
the flaming lips do you realize