POESIE et autres choses...
ELLE GOUVERNE TOUT ET NE RÉPOND DE RIEN
La poésie, comme un nord, oriente, éclaire, sans rien dicter ni imposer.
Elle ne répond de rien.
Laissons cela aux assoifés de pouvoir, dominateurs en tous genres, faibles dans l´âme et pauvres d´esprit,
Ici que du beau, et du Beau de l´air... c´est encore mieux.

(...)
Sors-tu du gouffre noir ou descends-tu des astres ?
Le Destin charmé suit tes jupons comme un chien;
Tu sèmes au hasard la joie et les désastres,
Et tu gouvernes tout et ne réponds de rien.

Extrait de L'hymne à la Beauté
Baudelaire.
Nature in the Poetry of William Wordsworth and William Blake. In the history of English literature, Romantic poetry is impressive for its several distinctive features, one of which is its intense involvement with and enthusiasm in Nature.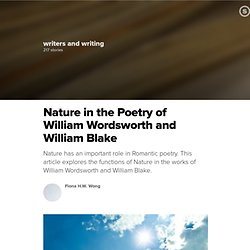 The role of Nature is prominent in Romantic poetry, whereas, however, it acts as the inspiring, smoothing and enlightening agent to zealous nature lover William Wordsworth, it only serves as an assistant to William Blakes overwhelming imaginative poetry. William Wordsworth: the Poet of Nature Wordsworth is renowned as the poet of nature. The primary concern of his poems is to appreciate the sublime beauty of Nature, to search for the union between the mind and Nature, and to acquire aspiring insights by embracing Nature. He does not simply depict an accurate picture of the pleasant environment; instead, he emphasises the interaction and union of man with Nature.
Obra de Shakespeare gravada em dupla hélice de ADN. Le chat (2) Charles BAUDELAIRE (1821-1867) Dans ma cervelle se promène Ainsi qu'en son appartement,Un beau chat, fort, doux et charmant.Quand il miaule, on l'entend à peine, Tant son timbre est tendre et discret ;Mais que sa voix s'apaise ou gronde,Elle est toujours riche et profonde.C'est là son charme et son secret.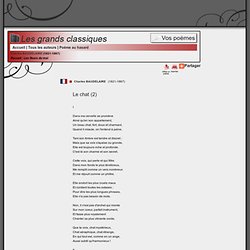 W. Blake
LES POETES. Inuitus inuitam. Femina futura. LETTRES Français Latin Grec. Langue française 4. Fable de la fontaine. Ebooks Gratuits.
Ebooks gratuits français (tous les genres)
Stefan Zweig
Pride & Prejudice. The Catcher in the Rye.
---