Dubstep
[Dubstep] - Tristam - Talent Goes By [Monstercat FREE Release]
Video Games - Lana Del Rey (Dubstep Remix)
Freestylers feat. Belle Humble - Cracks (Flux Pavillion Remix)
Circus Fire - Unlimited Gravity
i Monster - Daydream in Blue (album version)
Jazzsteppa - Taylor Rain
Jazzsteppa - D U B
Jazzsteppa - Five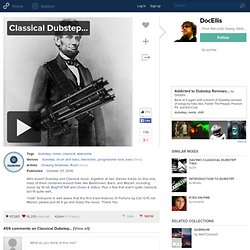 Drop files here to add tracks or artwork to your mix Who knew? Dubstep and Classical music, together at last...Eleven tracks on this one, most of them centered around folks like Beethoven, Bach, and Mozart...including music by 16 bit, BogTroTTeR and Chase & Status. Plus a few that aren't quite classical, but fit quite well... *note* Everyone is well aware that the first track features O Fortuna by Carl Orff, not Mozart, please just let it go and enjoy the music.
Borgore - Cry me a river
Vaski - Murder
Eptic - Danger (HQ 720p)
Cookie Monsta - Deadbeat [HQ]
Dirty Dubstep Mix & Eminence Trance Guest Mix #GQPodcast Ep.4
Kings Of Leon - Closer - Sekklow Remix (Dubstep)
Excision & Skism - Sexism (original mix)
Jazzsteppa - Five
DUBSTEP Don't worry, be Happy !