Holyraven
The Growlers Little Miss Jack. Wovenhand - Dirty Blue. KIRIKA - İspirtocu Saim. Savages - You're My Chocolate. Berry Weight - The Day Nothing Happened. The White Birch ~ Breathe. Jakwob - Electrify (Live at Miloco Studios, 2012) ft. Jetta.
Momma Sed. Emmy Curl - Mine. Lisa Hannigan - The Man I Love. Dream Theater - Repentance (Album Version) Mazzy star - hair and skin. Fizy.com Sorry, we're not available in your country yet.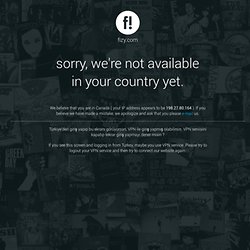 Supermax_-_Fly With Me. Supermax: Love Machine. Seth.ECT - Ana-al Haqq. Seth Ect - Take Me To The Hospital (The Prodigy) Moloko - The Time Is Now. Cubbiebear - Punch Pretty Women For Fun ft. Siah & Luke Orsie. Guillaume Grand - Toi et moi. Land of Talk - Quarry Hymns - A Take Away Show. "Vodka Inferno" by Diablo Swing Orchestra on "Sing Along Songs For The Damned & Delirious. "A Tap Dancer's Dilemma" by Diablo Swing Orchestra on "Sing Along Songs for the Damned & Delirious. Secret Garden - Nocturne. Jason Mraz - Life is wonderful (Live) Denia - Manu Chao. HOLDEN - L'ORAGE. Holden - Ce Que Je Suis. Symphony 1 In the Barrel of a Gun - Emily Wells. James Vincent McMorrow - This Old Dark Machine Official Video. Raveonettes :: Black/White. IS TROPICAL | THE GREEKS.
Boogie Balagan - Ride On Ride On. Kings of Convenience - Boat Behind. Faraway Vol. 2. BlakRoc: Ain't Nothing Like You (Hoochie Coo) Ft. Mos Def and Jim Jones. Sigur Ros Saeglopur.
Alt-indie-electro rock- some rock genres. El-ambient-triphop. Balkan- gypsy. 80-90 pop-disco- early 2000s.
---