Songs-EN
YOU MIGHT NEED SOMEBODY Lyrics RANDY CRAWFORD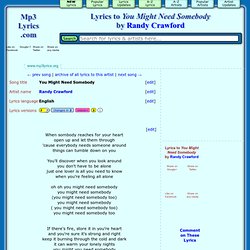 Your suggestion is being sent,
Send "La Isla Bonita" Ringtone to your Cell Just like I'd never gone, I knew the song A young girl with eyes like the desert It all seems like yesterday, not far away Chorus: Tropical the island breeze All of nature wild and free This is where I long to be La isla bonita And when the samba played The sun would set so high Ring through my ears and sting my eyes Your Spanish lullaby I fell in love with San Pedro Warm wind carried on the sea, he called to me Te dijo te amo I prayed that the days would last They went so fast (Chorus) I want to be where the sun warms the sky When it's time for siesta you can watch them go by Beautiful faces, no cares in this world Where a girl loves a boy, and a boy loves a girl Last night I dreamt of San Pedro It all seems like yesterday, not far away (Chorus) Ta-la-ta-ta-taa (Chorus) La-la-la-la-la-la-laaa Te dijo te amo La-la-la-la-la-la-laaa Writer: MADONNA, . / GAITSCH, BRUCE / LEONARD, PATRICKLyrics © Warner/Chappell Music, Inc., EMI Music Publishing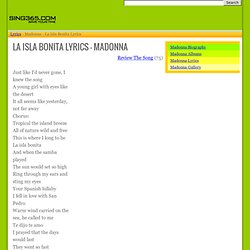 LA ISLA BONITA LYRICS - MADONNA
"Believe" After love, after love [repeat] No matter how hard I try You keep pushing me aside And I can't break through There's no talking to you So sad that you're leaving Takes time to believe it But after all is said and done You're going to be the lonely one, Ohh Oh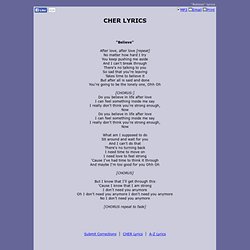 CHER LYRICS - Believe
I let it fall, my heart, And as it fell you rose to claim it It was dark and I was over Until you kissed my lips and you saved me
ADELE - SET FIRE TO THE RAIN LYRICS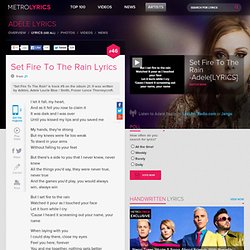 KELLY CLARKSON - MY LIFE WOULD SUCK WITHOUT YOU LYRICS
Guess this means you're sorry You're standing at my door Guess this means you take back All you said before Like how much you wanted Anyone but me Said you'd never come back But here you are again 'Cause we belong together now, yeah Forever united here somehow, yeah You got a piece of me And honestly, My life (my life) would suck (would suck) without you...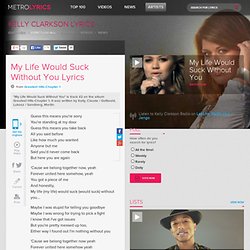 You're a good soldier Choosing your battles Pick yourself up And dust yourself off Get back in the saddle You're on the front line Everyone's watching You know it's serious We're getting closer This isn't over The pressure is on You feel it But you got it all Believe it
Shakira - Waka Waka (This Time for Africa) (feat. Freshlyground) Lyrics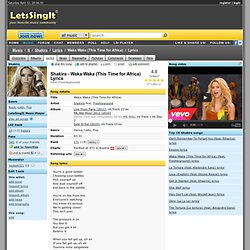 SHAKIRA LYRICS - Whenever, Wherever
Lucky you were born that far away so We could both make fun of distance Lucky that I love a foreign land for The lucky fact of your existence Baby I would climb the Andes solely To count the freckles on your body Never could imagine there were only Ten Million ways to love somebody Le ro lo le lo le, Le ro lo le lo le Can't you see I'm at your feet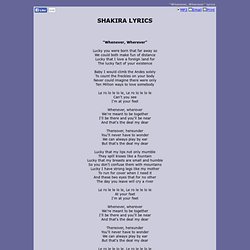 Katy Perry - I Kissed A Girl Lyrics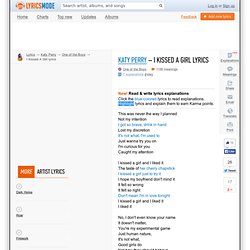 Highlight a line or word in the lyrics and click "Annotate".
At first I was afraid I was petrified Kept thinking I could never live without you by my side But then I spent so many nights Thinking how you did me wrong And I grew strong And I learned how to get along And now you're back from outer space I just walked in to find you here with that sad look upon your face I should have changed that stupid lock I should have made you leave your key If I've known for just one second you'd back to bother me Go on now, go walk out the door Just turn around now 'Cause you're not welcome anymore Weren't you the one who tried to hurt me with goodbye Do you think I'd crumble Did you think I'd lay down and die? Oh no, not I. I will survive Oh as long as I know how to love I know I'll stay alive I've got all my life to live I've got all my love to give and I'll survive I will survive, I will survive!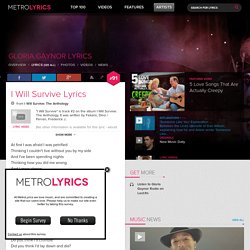 GLORIA GAYNOR - I WILL SURVIVE LYRICS
All Night Long Lyrics - Lionel Richie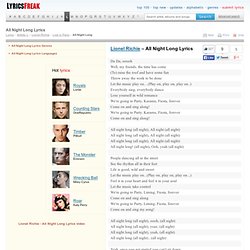 Da Da, oooohWell, my friends, the time has come(To) raise the roof and have some funThrow away the work to be doneLet the music play on....
I Wanna Dance With Somebody LyricsClock strikes upon the hourAnd the sun begins to fadeStill enough time to figure outHow to chase my blues awayI've done alright up to nowIt's the light of day that shows me howAnd when the night falls, loneliness calls Oh, I wanna dance with somebodyI wanna feel the heat with somebodyYeah, I wanna dance with somebodyWith somebody who loves meOh, I wanna dance with somebodyI wanna feel the heat with somebodyYeah, I wanna dance with somebodyWith somebody who loves me
I WANNA DANCE WITH SOMEBODY Lyrics - WHITNEY HOUSTON
Send "Heavy Cross" Ringtone to your Cell
Heavy Cross lyrics GOSSIP