Ungenred Beauty
My dog: the paradox
2012-02-10-WILLIAM-ERNEST-HENLEY-invictus.jpg (JPEG Image, 980×5631 pixels)
Baz Luhrmann - Everybody's Free (To Wear Sunscreen)
Valerie's Letter
One teachers approach to preventing gender bullying in a classroom
Sony Bravia (Bouncy Balls)
F5 2011 RE:PLAY Film Festival. Inductance on Vimeo
Sony BRAVIA Paint Advert (HD) High Definition
The Carpenters classic : "SING" (Peacewalker)
I met god the other day. I know what you're thinking.
Ragged Trousered Philosopher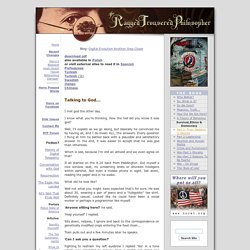 The 8 Most Badass Make-A-Wish Foundation Wishes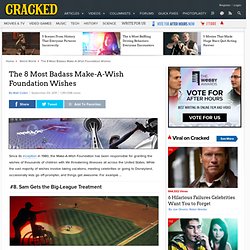 Since its inception in 1980, the Make-A-Wish Foundation has been responsible for granting the wishes of thousands of children with life threatening illnesses all across the United States. While the vast majority of wishes involve taking vacations, meeting celebrities or going to Disneyland, occasionally kids go off-prompter, and things get awesome.
Last year, a week before Thanksgiving, a man in Cape Canaveral bought in a foreclosure auction a two-story stucco run-down townhouse on a short, straight street called Cherie Down Lane. He went to see his purchase he hoped to fix up and sell. He found in the kitchen dishes stacked so high on the counter they almost touched the bottoms of the cabinets.
A Brevard woman disappeared, but never left home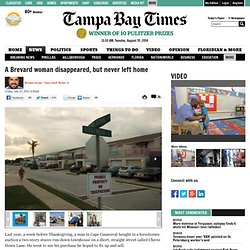 ‪Second Annual Glee Flash Mob - Seattle [OFFICIAL]‬‏
Depth Perception