Social Science
Get flash to fully experience Pearltrees
There's nothing stupider than a crowd. Take an average, intelligent person and put him in an emergency and he'll likely remain calm and await instructions.
Looking back at all the progress humanity has made through the last century, it's perfectly natural to feel a little bit moved by the power of human ingenuity and our thrive for constant improvement. It's natural, but also totally wrong. Because if you really look into the history of our technological development, you'll notice that the force driving us forward all this time wasn't our need to better ourselves or seek out truth in all its forms, but rather our desire to see naked people touch each other's junk.
The Middle Ages had the Black Death, 1918 had the influenza epidemic.
San Fernando Valley-based porn studio Pink Visual said the bunker is envisioned as "far more than a mere bomb shelter or subterranean survivalist enclave", complete with a digital studio, gun racks and a rotating hydraulic stage.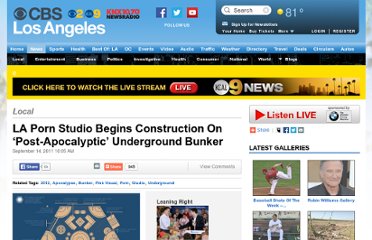 Our two favorite subjects at Cracked are the elusive concept of human happiness and Batman . This article is about the first one. If you're looking for an answer to "How can I be happy?"
#3. The Left Fears Zombies Because They're Mindless Consumers ...
"One death is a tragedy.