Science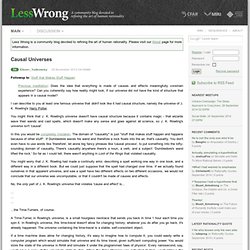 : Stuff that Makes Stuff Happen Previous meditation : Does the idea that everything is made of causes and effects meaningfully constrain experience? Can you coherently say how reality might look, if our universe did have the kind of structure that appears in a causal model? I can describe to you at least one famous universe that look like it had causal structure, namely the universe of J. K. Rowling's Harry Potter .
Causal Universes
Bill Nye Really Doesn't Understand Science – Ken Ham
Scientists create quantum computer in a diamond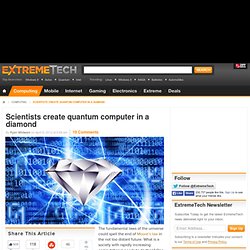 The fundamental laws of the universe could spell the end of Moore's law in the not too distant future. What is a society with rapidly increasing computational needs to do then? One answer could be to make use of quantum computing, where the quantum nature of molecules themselves are used to process data. A new experiment out of the University of Southern California (USC) might have solved one of the toughest problems in quantum computing, and it did so by building a computer inside a diamond. This new computer isn't going to be doing your taxes any time soon, but it shows the viability of solid-state quantum computers to lessen decoherence. Put simply, decoherence is a loss of observable information, which is the last thing you want in a computer.
Dead stars 'to guide spacecraft'
30 March 2012Last updated at 16:28 GMT By Jonathan Amos Science correspondent, BBC News, Manchester Spacecraft could one day navigate through the cosmos using a particular type of dead star as a kind of GPS. German scientists are developing a technique that allows for very precise positioning anywhere in space by picking up X-ray signals from pulsars. These dense, burnt-out stars rotate rapidly, sweeping their emission across the cosmos at rates that are so stable they rival atomic clock performance.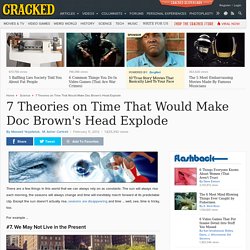 7 Theories on Time That Would Make Doc Brown's Head Explode
There are a few things in this world that we can always rely on as constants: The sun will always rise each morning, the seasons will always change and time will inevitably march forward at its predictable clip. Except the sun doesn't actually rise, seasons are disappearing and time ... well, see, time is tricky, too. For example ...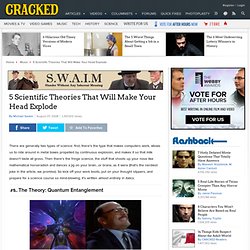 There are generally two types of science: first, there's the type that makes computers work, allows us to ride around in metal boxes propelled by continuous explosion, and makes it so that milk doesn't taste all gross. Then there's the fringe science, the stuff that shoots up your nose like mathematical horseradish and dances a jig on your brain...or brane, as it were (that's the nerdiest joke in the article, we promise). So kick off your work boots, put on your thought slippers, and prepare for a science course so mind-blowing, it's written almost entirely in italics.
5 Scientific Theories That Will Make Your Head Explode
8 Simple Questions You Won't Believe Science Can't Answer
The field of science is capable of some amazing things, mostly because it's filled with all the Albert Einsteins and Doogie Howsers the world has produced over the centuries.
In the 17th century, scientists understood three phases of matter—solids, liquids and gases (the discovery of plasma, the fourth phase of matter, lay centuries in the future). Back then, solids and liquids were much harder to work with than gases because changes in solids and liquids were difficult to measure with the equipment of the time. So many experimentalists played around with gases to try to deduce fundamental physical laws. Robert Boyle was perhaps the first great experimentalist, and was responsible for what we now consider to be the essence of experimentation: vary one or more parameter, and see how other parameters change in response. It may seem obvious in retrospect, but hindsight, as the physicist Leo Szilard once remarked, is notably more accurate than foresight.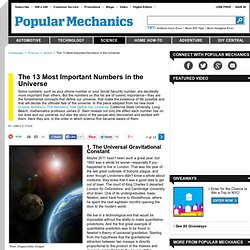 The 13 Most Important Numbers in the Universe - James D. Stein's Cosmic Numbers
In many ways, game shows are just like psychological experiments. Scientists love to exploit our logical blind spots to show just how irrational human beings will act in the right circumstances.
6 Counterintuitive Tricks to Beating Popular Game Shows