Doctor Who
Pokemon art by Suoku of Serebii Forums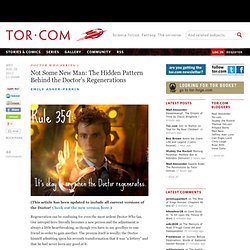 (This article has been updated to include all current versions of the Doctor! Check out the new version here.) Regeneration can be confusing for even the most ardent Doctor Who fan. Our intrepid hero literally becomes a new person and the adjustment is always a little heartbreaking, as though you have to say goodbye to one friend in order to gain another. The process itself is woolly; the Doctor himself admitting upon his seventh transformation that it was "a lottery" and that he had never been any good at it. But does regeneration make sense, even if you're no good at it?
Not Some New Man: The Hidden Pattern Behind the Doctor's Regenerations
Keelan?, sarah531: Companions, as associated with...
Circular Gallifreyan - Time Turners of the T.A.R.D.I.S.
Circular Gallifreyan is a standardized version of the written Gallifreyan language as seen in Doctor Who. It was standardized by a fan, so it is not officially sanctioned, but it looks terribly cool. You can read a guide to Gallifreyan online or just read The Honey Badger's guide below. Legal Note!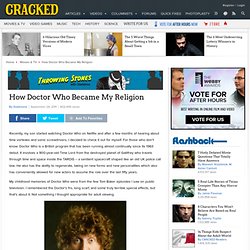 How Doctor Who Became My Religion
Recently, my son started watching Doctor Who on Netflix and after a few months of hearing about time vortexes and sonic screwdrivers, I decided to check it out for myself. For those who don't know: Doctor Who is a British program that has been running almost continually since its 1963 debut. It involves a 900-year-old Time Lord from the destroyed planet of Gallifrey who travels through time and space inside the TARDIS -- a sentient spacecraft shaped like an old UK police call box. He also has the ability to regenerate, taking on new forms and new personalities which also has conveniently allowed for new actors to assume the role over the last fifty years. My childhood memories of Doctor Who were from the few Tom Baker episodes I saw on public television.
2tKW9.jpg (JPEG Image, 1024×768 pixels) - Scaled (85
Doctor Who Tribute • His Name is 'The Doctor'
Doctor Who: "The Journey So Far" - Ultimate Cinema Trailer (2005-2011)
River Song's Timeline
dpXEG.jpg (JPEG Image, 1301×2414 pixels)
the simple image sharer
Accidental Doctor
doctor who royal wedding - Google Images
_lkheubTps81qaq97po1_500.png (JPEG Image, 500×582 pixels)
Doctor Who - Jizz in my pants
CSI: Gallifrey