Trash metal
Featured #1 HAVOK's latest video has premiered today via Bloody Disgusting. "Point Of No Return" is the title track to the band's EP, released last Spring as a tide-me-over while the band continued their non-stop... [Read more...] Featured #2 HAVOK forced to cancel European Tour!
Havok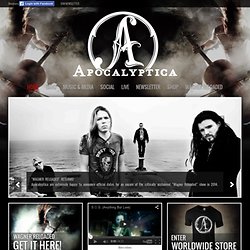 Members: Apocalyptica are extremely happy to announce official dates for an encore of the critically acclaimed "Wagner Reloaded" show in 2014. PrevNext "Wagner Reloaded" Show at Arena Leipzig postponed due to burglary and theft in production halls / warehouses Leipzig. More videos
Apocalyptica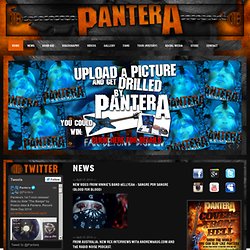 Pantera
by Don Kaye "The thing about us is that we always stayed on the ground level with the fans," proclaims Pantera guitarist Dimebag Darrell in his proud Texas twang. "We never rode above the fans – I'm a fuckin' fan myself – and we always had great interaction with them.
Anthrax
megadeth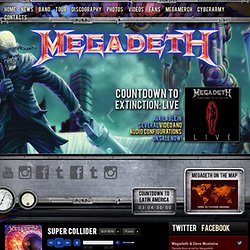 Jan142014 Matt Bishop for The Rock Revival recently conducted an interview with Dave Mustaine. "Thrash metal titans Megadeth recently completed their North America Super Collider Tour in support of their latest album of the same name. The disc debuted at #6 on the Billboard Top 200, and has garnered praise from fans and critics alike. I got a chance to sit down with frontman Dave Mustaine backstage at the Sands Event Center in Bethlehem, PA to talk about the record, the tour, and what's next for the band."
I was lucky enough to get to go and see the boys play in Camden last night. The show was awesome! Typically tight sounding thrashing Slayer show. Getting to see "Old School Slayer Night" was perfect for me as 85-90 was when my musical taste was developed and I know the lyrics of every album front to back from that time period. Absolutely all my favorites! The pit was a little active throughout the show but I can tell that the Slayer audience is getting a little older as I ...
Slayer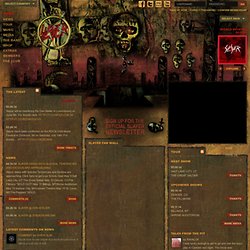 Bruce Dickinson
Iron Maiden
Overkill
Rolling Stone: Metallica Explain How 'Through the Never' Became 'Sonically Awesome' February 3, 2014 When Metallica's monolithic statue of Lady Justice detonates and collapses around the band midway through their feature film, Metallica: Through the Never, its pieces thud and crash in ways that moviegoers could hear and feel. It's the sort of sensory overload the metal group was going for with the whole film, which follows a roadie on a drug-fueled surrealistic quest to retrieve a bag for the band, as Metallica play a concert to a packed arena. "We wanted to use the 3-D to bring people up onstage, to give the audience a feeling of immersion and being a part of what was happening," drummer Lars Ulrich tells Rolling Stone.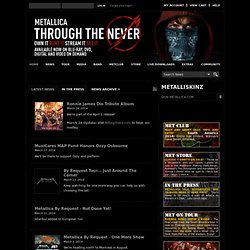 metallica