Musica
Visual Music Search Engine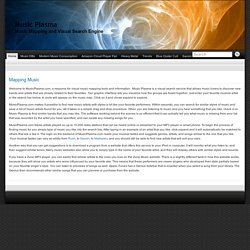 Welcome to MusicPlasma.com the original visual music mapping tool. Music Plasma is a visual search service that allows music lovers to discover new bands and artists that are closely related to their favorites. Our graphic interface lets you visualize how the groups are fused together. Just enter your favorite musical artist in the search bar below.
Letras de canciones - buscador
vintage progressive rock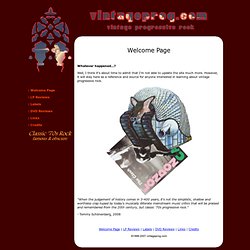 Welcome Page Whatever happened...? Well, I think it's about time to admit that I'm not able to update the site much more.
Progressive Ears
Gibraltar - encyclopedia of progressive rock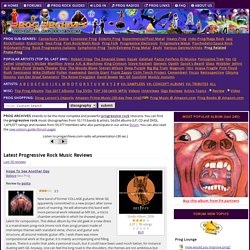 The Great Tease This is the first I have heard of Subterranean Masquerade, but it certainly won't be the last. From what I've heard, this band seems to be a bit of an enigma ? the Wintersun of the heavy prog world, so to say. The band's sole full-length album, Suspended Animation Dreams was released to great acclaim back in 2005, and the band has more or less been silent since.
prog archives
Pues aqui les traigo el audio del gran historico concierto de thrash mas esperado del año THE BIG 4 que se llevo acabo el 22/jun/2010 en Sofia, Bulgaria en el Sonisphere Festival ............y vaya q fue un megaconcierto q no c volvera a repetir (ojala y me equivoque pero eso parece ser) q no necesita mencion de las grandes bandas q participaron en este megaconcierto.......tenemos los maravillosos y virtuosos solos de Dave Mustaine.....el gran ritmo y velocidad de Dave Lombardo.........la gran energia de Scott Ian........y el unico y gran estilo de Kirk Hammet. ......solamente me queda decir.....enjoy it!!!!!!! como este concierto no hay dos.......THRASH FOREVER!!!!!!!!!..............LARGA VIDA A LOS 4 GRANDES!!!!!!!!! Tracklist
shadow metal
Progressive Rock & Progressive Metal
Encyclopaedia Metallum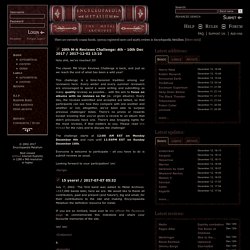 Link Bloodstock Festival stream / 2013-08-09 05:53 Hey, we're gonna try something new. As many of you may know, this weekend is the Bloodstock Festival in the UK.