California
San Diego. Historically home to the Kumeyaay people, San Diego was the first site visited by Europeans on what is now the West Coast of the United States.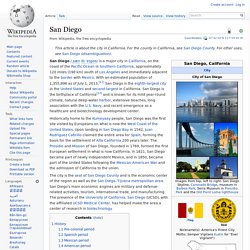 Upon landing in San Diego Bay in 1542, Juan Cabrillo claimed the entire area for Spain, forming the basis for the settlement of Alta California 200 years later. The Presidio and Mission of San Diego, founded in 1769, formed the first European settlement in what is now California. In 1821, San Diego became part of newly independent Mexico, and in 1850, became part of the United States following the Mexican-American War and the admission of California to the union.
The city is the seat of San Diego County and is the economic center of the region as well as the San Diego–Tijuana metropolitan area. Bahia Resort Hotel - Dining & Entertainment - Reservations. 2010 Road Trips [6 - 7] Mission Bay Aquatic Center | Homepage. San Diego Hotel| Best Western Seven Seas| San Diego, California. BEST WESTERN Seven Seas This full-service San Diego, California hotel is a property featuring newly renovated guest rooms and convenient access to local attractions such as the San Diego Zoo and SeaWorld®.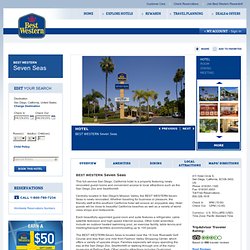 Centrally located in San Diego's Mission Valley, the BEST WESTERN Seven Seas is newly renovated. Whether traveling for business or pleasure, the friendly staff at this southern California hotel will ensure an enjoyable stay. Hotel guests will be close to beautiful California beaches as well as a variety of world class shops and restaurants. Western Classic Fly Drive - California, Los Angeles Grand Canyon | Complete North America. Coastal California. Counties commonly seen as constituting coastal California.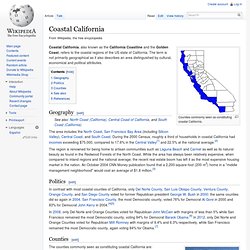 Coastal California, also known as the California Coastline and the Golden Coast, refers to the coastal regions of the US state of California. The term is not primarily geographical as it also describes an area distinguished by cultural, economical and political attributes. Contact Us | Bluebird Inn. Santa Barbara Hotel Group - Contact the Inn by the Harbor in Santa Barbara, California.
Inn by the Harbor 433 W.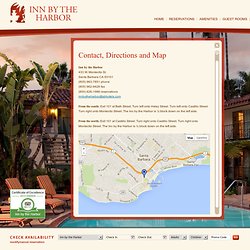 Montecito St. Monterey, CA Hotel - Monterey Bay Inn near Monterey Bay Aquarium. Sandpiper Inn. Grand Canyon Helicopter Tours - Las Vegas Helicopter Tours - GCH. Grand Canyon Tours, Helicopter Tours, Grand Canyon Tours from Las Vegas | All Grand Canyon Tours. Grand Canyon Skywalk What is the Grand Canyon Skywalk?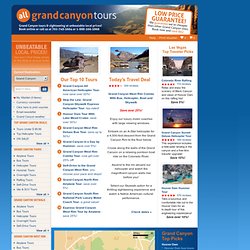 It is the world's first-ever 4,000-foot-tall glass bottom bridge! The West Rim of the Grand Canyon is home to the Skywalk, which juts out over the canyon to give you one-of-a-kind views over, out and down into the majestic Grand Canyon. The Hualapai Tribe (who own the land at the West Rim of the Grand Canyon and are responsible for the construction of the Skywalk) share its private land with visitors from around the world, so you can now enjoy an incredible experience by walking out onto the Grand Canyon Skywalk and looking down deep into the canyon!
The Canyon Motel and RV Park - Route 66 - Williams, Arizona. Lake Mead RV Village, a Full Service Campground on Lake Mead, Nevada. Visit Four Corners Monument, AZ: Things to Do and Hotels| Arizona Office of Tourism. America's Most Scenic Roads- Page 3. Muir Woods - Guide to Visiting Muir Woods - Mill Valley California. Muir Woods is the closest place to San Francisco where visitors can see an old-growth stand of coastal redwood trees, just a few miles north of the Golden Gate Bridge.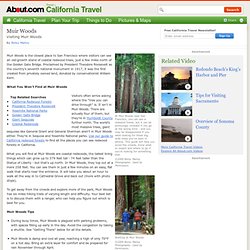 Proclaimed by President Theodore Roosevelt as the country's seventh national monument in 1917, it was the first created from privately owned land, donated by conservationist William Kent. What You Won't Find at Muir Woods Visitors often arrive asking where the "tree you can drive through" is. It isn't in Muir Woods. California Maps, Travel Ideas, Trip Ideas - Explore California Cities and Discover California through interactive maps - California Travel and Tourism Commission. Grand Canyon Natl Park Visitor Information, South Rim.
Goulding's Lodge: Campground. We're sorry but the link above is under construction.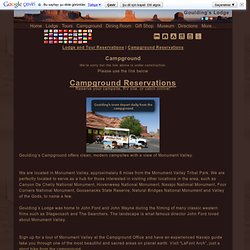 Please use the link below Reserve your campsite, RV site, or cabin online! Goulding's Campground offers clean, modern campsites with a view of Monument Valley. We are located in Monument Valley, approximately 6 miles from the Monument Valley Tribal Park. Grand Canyon - Part 2 - RV Today. Kaibab Camper Village - Grand Canyon North Rim area camping at Jacob Lake, Arizona. Ruby's Inn RV Park & Campground. Bryce Canyon - A Nature's Wonder | Enjoyourholiday.com. Bryce Canyon is located in Bryce Canyon National Park, southwestern Utah.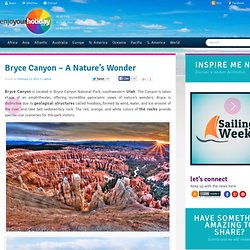 The Canyon is takes shape of an amphitheater, offering incredible panoramic views of nature's wonders. Bryce is distinctive due to geological structures called hoodoos, formed by wind, water, and ice erosion of the river and lake bed sedimentary rock. The red, orange, and white colors of the rocks provide spectacular sceneries for the park visitors. Most park visitors sightsee using the scenic drive, which provides access to 13 viewpoints over the amphitheaters. Meadview RV Park and Cozy  Cabins. Guide to Grand Canyon West and the Skywalk - Grand Canyon West and Skywalk Guide. Updated September 25, 2013 Grand Canyon West and the Skywalk prices and other information for visitors are important for those who want to make their visit to the Hualapai Indian lands attraction a memorable one.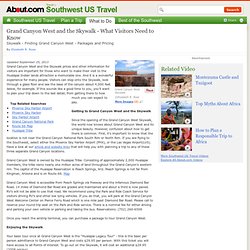 And it is a wonderful experience for many people. Visitors can step onto the Skywalk, look through a glass floor and see the base of the canyon about 4,000 feet below, for example. Grand Canyon Natl Park Visitor Information, North Rim. Gouldings rv. Lake powell - Google Search. Dead Horse Point State Park. The Legend Of Dead Horse Point Before the turn of the 19th century, mustang herds ran wild on the mesas near Dead Horse Point.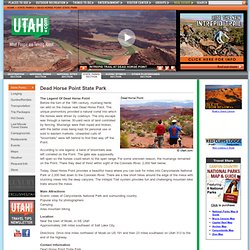 The unique promontory provided a natural corral into which the horses were driven by cowboys. The only escape was through a narrow, 30-yard neck of land controlled by fencing. Mustangs were then roped and broken, with the better ones being kept for personal use or sold to eastern markets. Unwanted culls of "broomtails" were left behind to find their way off the Point. According to one legend, a band of broomtails was left corralled on the Point. San Francisco Airport Car Rental Search Results.
Yosemite National Park - Guide to Planning a Yosemite Vacation. If you're planning a Yosemite vacation, we've been there more than a dozen times and have been answering visitor questions since 1998, so we put together some resources to help you plan your trip like a pro. Yosemite National Park is in the Sierra Nevada Mountains, on the east side of the state, almost due east of San Francisco. It's a 4-hour drive from San Francisco, about 6 hours from Los Angeles, 7.5 to 8 hours from Las Vegas. All the ways to get there are summarized in this guide to How to Get to Yosemite. Camper Travel USA, RV Rentals, Campervans, Motorhomes.
Redwood Forests in California - Guide to Visiting California's Best Redwood Forests. About Trees in the California Redwood Forests The California trees people call "redwoods" are actually two distinct species, both of them best described in superlatives. Sometimes called simply the "big trees," giant sequoias (sequoiadendron giganteum) grow only in California's Sierra Nevada Mountains toward the state's eastern border.
---