Silverlight
Data Binding and Tooltips in Silverlight - WiredPrairie
jeffhandley/RIAServicesValidation - GitHub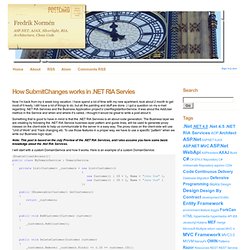 How SubmitChanges works in .NET RIA Servies - Fredrik Normén
Now I'm back from my 4 week long vacation. I have spend a lot of time with my new apartment, took about 2 month to get most of it ready, I still have a lot of things to do, but all the painting and stuff are done :) I got a question on my e-mail regarding .NET RIA Services and the Business Application project's UserRegistartionService.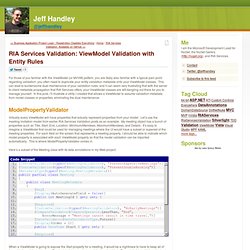 For those of you familiar with the ViewModel (or MVVM) pattern, you are likely also familiar with a typical pain point regarding validation: you often need to duplicate your entity validation metadata onto your ViewModel classes. This can lead to burdensome dual maintenance of your validation rules, and it can seem very frustrating that with the server to client metadata propagation that RIA Services offers, your ViewModel classes are left dangling out there for you to manage yourself. In this post, I'll illustrate a utility I created that allows a ViewModel to assume validation metadata from model classes or properties, eliminating the dual maintenance.
RIA Services Validation: ViewModel Validation with Entity Rules
Getting Started Walking Through a Silverlight Application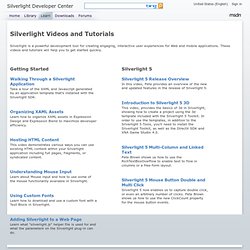 WCF RIA Services and a guide to use DTO/"Presentation Model" - Fredrik Normén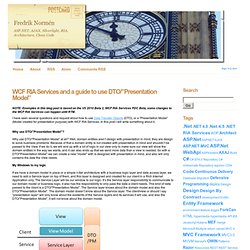 NOTE: Examples in this blog post is based on the VS 2010 Beta 2, WCF RIA Services PDC Beta, some changes to the WCF RIA Services can happen until RTM. I have seen several questions and request about how to use Data Transfer Objects (DTO), or a "Presentation Model" (Model created for presentation purpose) with WCF RIA Services.
CL09.pptx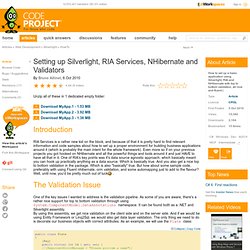 Setting up Silverlight, RIA Services, NHibernate and Validators
Unzip all of these in 1 dedicated empty folder: Introduction RIA Services is a rather new kid on the block, and because of that it is pretty hard to find relevant information and code samples about how to set up a proper environment for building business applications around it (which is probably the main intent for the whole framework).
RIA Services offers powerful features for flowing validation from your entity model all the way up to the Silverlight UI.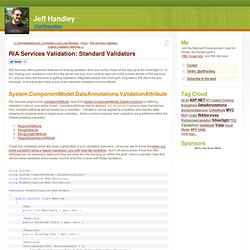 RIA Services Validation: Standard Validators