Web
GotoAndLearn() - Free video tutorials from Lee Brimelow on Adobe Flash. Learn Web Design Online Free. Adam Khoury. Part 1 - Building a Social Network Website Tutorial - Webintersect.com PHP and MySQL Video. You can embed this video on your blog or web page by copying the video embed code above and pasting it into the source code of your page.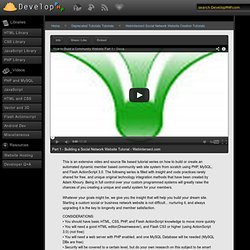 Adjust the width and height to specify the size you would like it to display. This is an extensive video and source file based tutorial series on how to build or create an automated dynamic member based community web site system from scratch using PHP, MySQL, and Flash ActionScript 3.0. The following series is filled with insight and code practices rarely shared for free, and unique original technology integration methods that have been created by Adam Khoury. Being in full control over your custom programmed systems will greatly raise the chances of you creating a unique and useful system for your members.
Web Hosting by FatCow - Get A Discount on Udderly Fantastic Web Hosting. "I am writing to tell you guys how satisfied I have been as a customer.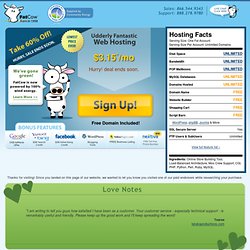 Your customer service - especially technical support - is remarkably useful and friendly. Please keep up the good work and I'll keep spreading the word! "Just wanted to say how pleased I am with your service. Website creation. Html. Python. Graphics.
---