Digital content
Recite. Microsoft Academic Search. Search Home - Search Yale Digital Content. Biblion:|Home. Biblion: World's Fair | Home. When the Fair's Records arrived at the Library in 1941, they amounted to ten tons of paper generated by the Fair's administration, which had spread over five huge floors of the Empire State Building.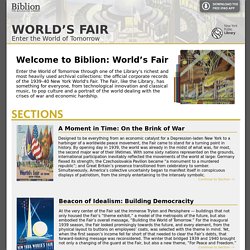 Correspondence, press clippings, autographs, financial documents, contracts, photographs, memos, drawings, architectural plans, memorabilia, and much more paint a picture of the totality of the amazingly ambitious venture, capturing the inner workings of the World's Fair Corporation as if frozen in time. Contemporary researchers are presented with a model of the record keeping system of a typical pre-World War II office, dominated by the file clerk, the stenographer, the carbon duplicator, and the mimeograph machine — now, perhaps ironically, all parts of "The World of the Past.
" NewsHour Extra. DOAJ -- Directory of Open Access Journals. University of Pittsburgh Press Digital Editions. The University of Pittsburgh Press and the University Library System (ULS) have formed a partnership to make books published by the Press available online.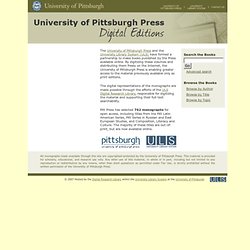 By digitizing these volumes and distributing them freely on the Internet, the University of Pittsburgh Press is enabling greater access to the material previously available only as print editions. The digital representations of the monographs are made possible through the efforts of the ULS Digital Research Library, responsible for digitizing the material and supporting their full-text searchability. Pitt Press has selected 762 monographs for open access, including titles from the Pitt Latin American Series, Pitt Series in Russian and East European Studies, and Composition, Literacy and Culture.
The majority of these titles are out-of-print, but are now available online. Internet Archive: Digital Library of Free Books, Movies, Music & Wayback Machine.
The Manuscripts and Archives Digital Images Database (MADID) Publicity and Privacy Rights Privacy and publicity rights reflect separate and distinct interests from copyright interests.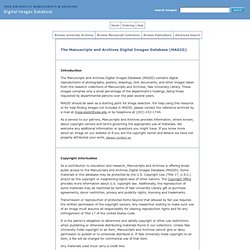 While copyright protects the copyright holder's property rights in the work or intellectual creation, privacy and publicity rights protect the interests of the person(s) who may be the subject(s) of the work or intellectual creation. Issues pertaining to privacy and publicity may arise when a researcher contemplates the use of letters, diary entries, photographs or reportage in visual, audio, and print formats found in library collections. Because two or more people are often involved in the work (e.g., photographer and subject, interviewer and interviewee) and because of the ease with which various media in digital format can be reused, photographs, audio files, and motion pictures represent materials in which issues of privacy and publicity emerge with some frequency. Homepage.
---