Digital content
Biblion:|Home
When the Fair's Records arrived at the Library in 1941, they amounted to ten tons of paper generated by the Fair's administration, which had spread over five huge floors of the Empire State Building. Correspondence, press clippings, autographs, financial documents, contracts, photographs, memos, drawings, architectural plans, memorabilia, and much more paint a picture of the totality of the amazingly ambitious venture, capturing the inner workings of the World's Fair Corporation as if frozen in time.
Biblion: World's Fair | Home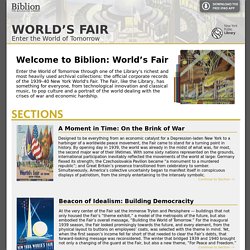 Welcome To Research Tools
<object classid="clsid:d27cdb6e-ae6d-11cf-96b8-444553540000" codebase="https://download.macromedia.com/pub/shockwave/cabs/flash/swflash.cab#version=8,0,0,0" width="250" height="375" id="digitaleditions" align="middle"><param name="allowScriptAccess" value="sameDomain" /><param name="movie" value="digitaleditions.swf" /><param name="quality" value="high" /><param name="bgcolor" value="#ffffff" /><embed src="digitaleditions.swf" quality="high" bgcolor="#ffffff" width="250" height="375" name="digitaleditions" align="middle" allowScriptAccess="sameDomain" type="application/x-shockwave-flash" pluginspage="https://www.macromedia.com/go/getflashplayer" /></object>
University of Pittsburgh Press Digital Editions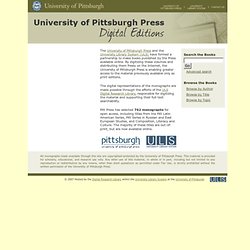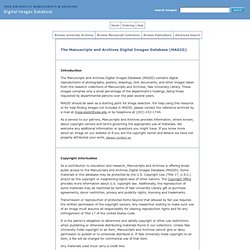 The Manuscripts and Archives Digital Images Database (MADID)
Publicity and Privacy Rights Privacy and publicity rights reflect separate and distinct interests from copyright interests.