Oil Prices
How Oil Prices Affect the Economy: Calling for a Third Industrial Revolution
Interviewee: Brad W. Setser, Fellow for GeoeconomicsInterviewer: Lee Hudson Teslik, Associate Editor June 18, 2008 Two of the defining geoeconomic trends of the past two years have been surging oil prices and a falling U.S. dollar.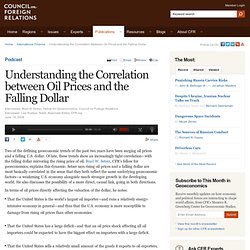 Understanding the Correlation between Oil Prices and the Falling Dollar
beyondbrics The emerging markets hub News and comment from more than 40 emerging economies, headed by Brazil, Russia, India and China. 'Like' our beyondbrics Facebook page, where we showcase a top story of the day After more than three years of fully open access, readers now need to register on FT.com to read beyondbrics articles for free. If you not yet registered, it's a simple process which only takes a few moments.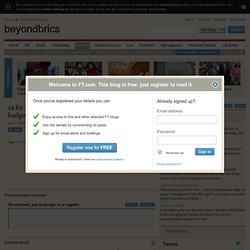 12 for 2012: oil price fall will squeeze producers' budget plans | beyondbrics | News and views on emerging markets from the Financial Times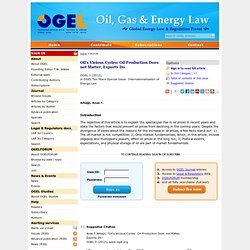 Oil's Vicious Cycles: Oil Production Does not Matter, Exports Do - Journal - OGEL Journal (Oil, Gas & Energy Law Intelligence) - Global Energy Law & Regulation Portal
OGEL 3 (2012),in OGEL Ten Years Special Issue: Internationalisation of Energy Law Alhajji, Anas F. Introduction
Biography: Philip K. Verleger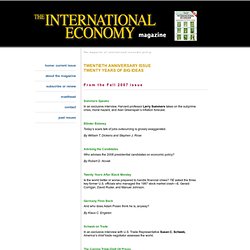 The magazine of international economic policy. Summers Speaks In an exclusive interview, Harvard professor Larry Summers takes on the subprime crisis, moral hazard, and Alan Greenspan's inflation forecast. Blinder Baloney
The International Economy-Fall 2007
Publications: P K Verlegerger