Oil Prices
What's Driving Oil and Gasoline Prices in the US? - OIL - eWallstreeter
How Oil Prices Affect the Economy: Calling for a Third Industrial Revolution
Interviewee: Brad W. Setser, Fellow for Geoeconomics, Council on Foreign Relations Interviewer: Lee Hudson Teslik, Associate Editor, CFR.org June 18, 2008 Two of the defining geoeconomic trends of the past two years have been surging oil prices and a falling U.S. dollar.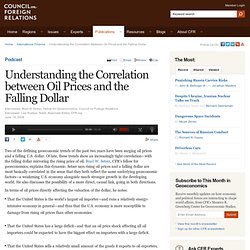 Understanding the Correlation between Oil Prices and the Falling Dollar
This is the last in our series of guest posts – 12 for 2012 – looking at issues facing emerging markets in the new year. By Chris Garman and Robert Johnston of Eurasia Group After a spike driven by Middle East politics throughout most of 2011, oil prices softened as the year came to an end. Should this trend continue into 2012, several major oil-exporting countries that have gone on spending binges since the 2008/09 crisis will be put into a more vulnerable fiscal position. A drop in oil prices from the current level of around $113 a barrel to, say, below $85 (Brent pricing) would likely shift policy-making in these countries in more unpredictable directions, both positive and negative, as governments would be forced to turn to other sources of revenue. Markets are shifting their focus from this year's decline in OPEC production due to the Libyan conflict – to increases in output as Libya comes back on stream and Iraqi production grows in 2012.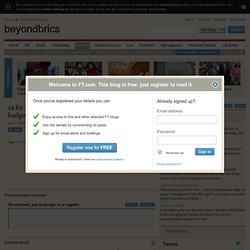 12 for 2012: oil price fall will squeeze producers' budget plans | beyondbrics | News and views on emerging markets from the Financial Times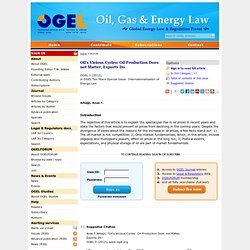 Oil's Vicious Cycles: Oil Production Does not Matter, Exports Do - Journal - OGEL Journal (Oil, Gas & Energy Law Intelligence) - Global Energy Law & Regulation Portal
OGEL 3 (2012), in OGEL Ten Years Special Issue: Internationalisation of Energy Law Alhajji, Anas F. Introduction
Biography: Philip K. Verleger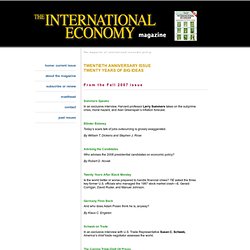 The magazine of international economic policy. Summers Speaks In an exclusive interview, Harvard professor Larry Summers takes on the subprime crisis, moral hazard, and Alan Greenspan's inflation forecast. Blinder Baloney
The International Economy-Fall 2007
Publications: P K Verlegerger