Deep-sea resources
UMI 2012 | Underwater Mining Institute Conference
Harvesting Seabed Mineral Resources in Harmony with Nature The 43rd Conference of the Underwater Mining Institute September 21–28, 2014 • Lisbon, Portugal Come and join us in sunny Portugal, where Heritage speaks of the great sea discoveries, celebrated in innumerable unique monuments, side by side with narrow, medieval streets like live Renoir paintings in every corner. Experience the famous Portuguese hospitality, and its remarkable cuisine and wines.
The Law of the Sea treaty will sink America's economy
Americans despise taxes. After all, one of the key issues that paved the way for the American Revolution was the unfair taxation that King George III levied against the Colonies. Now some in the US Senate want to say yes to an international tax. It would be the first time in history that an international organization would possess taxing authority, and it would amount to billions of American dollars being transferred out of the US Treasury. The U.N.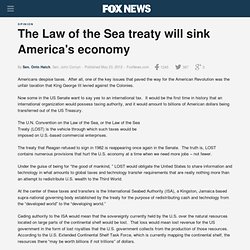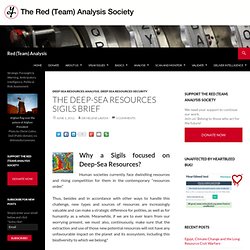 Human societies currently face dwindling resources and rising competition for them in the contemporary "resources order." Thus, besides and in accordance with other ways to handle this challenge, new types and sources of resources are increasingly valuable and can make a strategic difference for polities, as well as for humanity as a whole. Meanwhile, if we are to ever learn from our worrying present, we must also, continuously, make sure that the extraction and use of those new potential resources will not have any unfavourable impact on the planet and its ecosystem, including this biodiversity to which we belong.* World Bank – Global Economic Prospects January 2012 – Commodity Annex
The Deep-Sea Resources Sigils Brief
Sensitization Seminar - New York 2012 | International Seabed Authority
SENSITISATION SEMINAR ON THE WORK OF THE INTERNATIONALSEABED AUTHORITY AND CURRENT ISSUES RELATING TO DEEP SEABED MININGRoom 3 NLB, United Nations Headquarters10am-6pm, 16 February 2012 Agenda | Presentations | Flyer The Sensitization Seminar is aimed at informing and sensitizing delegates of Members of the Authority, of the Permanent Missions and Observers to the United Nations in New York on current issues relating to deep seabed mining and on the work of the Authority. Issues to be addressed include: Prospects for extraction of rare earth elements from seabed mineral deposits, The resource assessment carried out by the Authority;Opportunities for training that are offered by the Endowment Fund for marine scientific research of the Authority;The structure of the Authority;The work of the Council and Legal and Technical Commission; andThe outlines of the eighteenth session of the Authority that will take place at the headquarters of the Authority from 16 to 27 July 2012.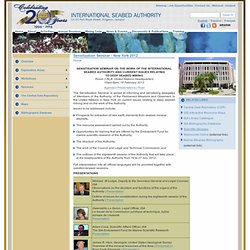 What is SeamountsOnline? Since 2001, SeamountsOnline has been gathering data on species that have been observed or collected from seamounts and providing these data through a freely-available online portal. It is designed to facilitate research into seamount ecology, and to act as a resource for managers. It is also the database component of the Global Census of Marine Life on Seamounts . Who are we? SeamountsOnline is led by Karen Stocks , a researcher at the University of California who works on deep-sea biodiversity using information systems, and Emma (Emiko) Cook, a biodiversity data manager.
SeamountsOnline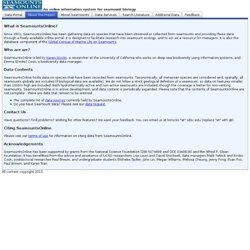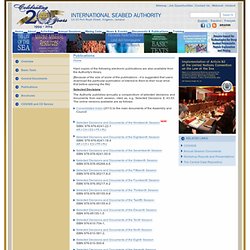 Hard copies of the following electronic publications are also available from the Authority's library. [Because of the size of some of the publications - it is suggested that users download the particular publication of interest to them to their local drive first before opening the file] Selected Decisions The Authority publishes annually a compendium of selected decisions and documents from each session, cited as, e.g. Selected Decisions 8, 43-53.
Publications | International Seabed Authority
L'Atalante, navire de la flotte Ifremer©Ifremer/Michel GOUILLOU Source IFREMER La campagne océanographique franco-allemande BIONOD [1] (contraction de BIOlogie et NODules) a débuté le 27 mars à bord du navire L'Atalante de l'Ifremer. Elle se poursuivra pendant un mois et demi, jusqu'au 10 mai prochain, dans le Pacifique nord-est, dans la zone de Clarion-Clipperton, entre l'archipel d'Hawaï et la côte ouest du Mexique. La campagne BIONOD répond aux engagements de la France vis-à-vis de l'Autorité internationale des fonds marins [2] qui lui a attribué un secteur de 75 000 km2 pour l'exploration des nodules polymétalliques [3]. La campagne vise à décrire, à comprendre et à comparer la distribution des espèces dans les zones avec et sans nodules.
L'Ifremer étudie les champs de nodules polymétalliques