Illustration
Liz Clements Illustration
Joe Fenton on Vimeo
Paintings 2012
BSC NEWS fevrier 2012
KIMURA Ryoko
YUMIKO KAYUKAWA
Yuta Onoda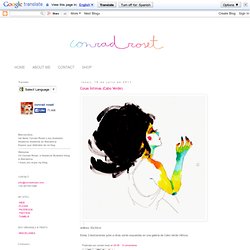 conradroset
Os presento el primer single de SUN DARLING, un grupo nuevo de USA, pero que tiene muy pero que muy buena pinta.La portada es una de mis ilustraciones para cosas íntimas.Clica aquí para ir a su web para poder escuchar y descargarte el single de forma gratuita. I show you the first SUN DARLING'S single, a new band in USA. Looking really great! The cover is one of my first illustrations of "cosas intimas" Click here to listen and download the single for free.
Los Monstruos de Tony
Martine Johanna
iainmccaig.com - Coming Soon!
Mark Ryden
KuKulaland
Liza Corbett
Marion Peck
Lori Earley
Kelly Vivanco