Wordpress
WordPress Conditional Tags (And Snippets) for Beginners. One of the best features of the WordPress could be the conditional tags.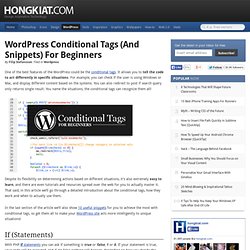 It allows you to tell the code to act differently in specific situations. For example, you can check if the user is using Windows or Mac, and display different content based on the systems. Top List of the Best and Must Use WordPress Plugins. This page has a list of some of the best WordPress Plugins out there.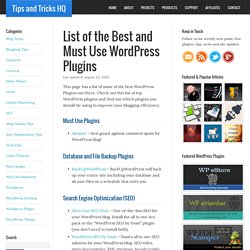 Check out this list of top WordPress plugins and find out which plugins you should be using to improve your blogging efficiency. Must Use Plugins Akismet – best guard against comment spam for WordPress blog! 10 Essential WordPress Plugins for Every WordPress Installation.
I have my own set of WordPress plugins that I have used time and time again.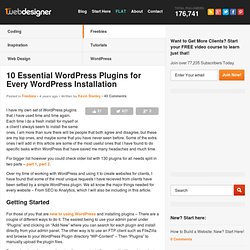 Each time I do a fresh install for myself or a client I always seem to install the same ones. I am more than sure there will be people that both agree and disagree, but these are my top ones, and maybe some that you have never seen before. Some of the extra ones I will add in this article are some of the most useful ones that I have found to do specific tasks within WordPress that have saved me many headaches and much time. For bigger list however you could check older list with 130 plugins for all needs split in two parts – part 1, part 2.
WordPress CMS - Building a Website with WordPress.
---