Psycho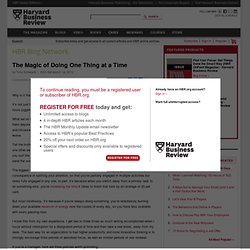 by Tony Schwartz | 8:53 AM March 14, 2012
We've mentioned a few ways to detect liars , but Pamela Meyer has discovered just about all of them. She's taken a look at the most common behaviors of liars, scientifically, and shares her expertise on how to detect them.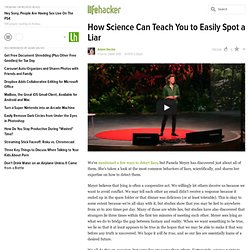 How Science Can Teach You to Easily Spot a Liar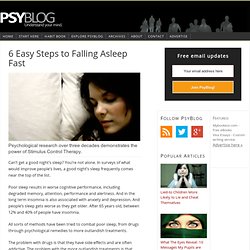 Psychological research over three decades demonstrates the power of Stimulus Control Therapy.
Chris Smith's Blog Posts at Stepcase Lifehack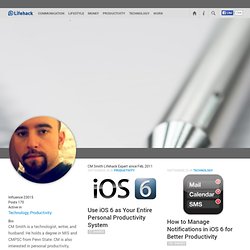 6 Ways Journaling Will Change Your Life
Harvard psychologist Ellen Langer carried out a study demonstrating the power of language - adding one word to a simple request increased compliance rates by 33%. Langer wanted to demonstrate how changing the structure of a sentence can influence others more effectively. The situation involved a waiting line to use a copy machine, and the researcher acting as someone who needed to cut the line.
One Word Persuasion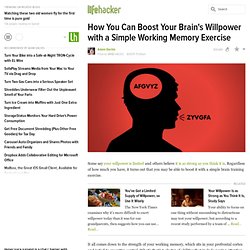 Some say your willpower is limited and others believe it is as strong as you think it is . Regardless of how much you have, it turns out that you may be able to boost it with a simple brain training exercise. It all comes down to the strength of your working memory, which sits in your prefrontal cortex and is tied to executive control.
How You Can Boost Your Brain's Willpower with a Simple Working Memory Exercise
Beat Procrastination More Easily by Treating It Like an Involuntary Bad Habit
When we look at procrastination, we see it as a choice.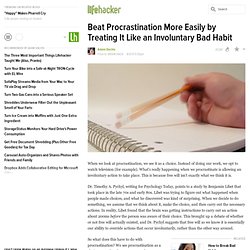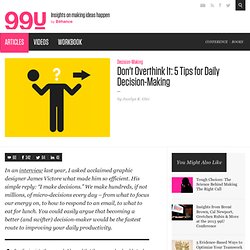 In an interview last year, I asked acclaimed graphic designer James Victore what made him so efficient. His simple reply: "I make decisions." We make hundreds, if not millions, of micro-decisions every day – from what to focus our energy on, to how to respond to an email, to what to eat for lunch.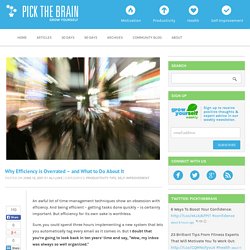 An awful lot of time-management techniques show an obsession with efficiency . And being efficient – getting tasks done quickly – is certainly important.
Why Efficiency is Overrated – and What to Do About It
Brain Workshop Is a Brain-Training App That Might Actually Make You a Little Bit Smarter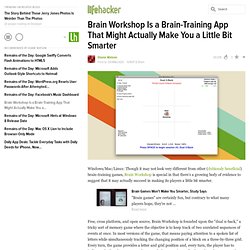 Windows/Mac/Linux: Though it may not look very different from other ( dubiously beneficial ) brain-training games, Brain Workshop is special in that there's a growing body of evidence to suggest that it may actually succeed in making its players a little bit smarter.
Judge Your Impulses Better by Testing Them for Momentum - Lifehacker
Trusting your gut can often be a good thing, but there's really no strategy that works in all situations. While you don't want to waste a ton of time second-guessing yourself, you might find that you're making better decisions when you evaluate your ideas based on their ability to move things forward. This idea comes from Behance 's Scott Belsky:
Ben ik dat?, Mark Mieras
Hersenonderzoek raakt aan ons hele leven. Het werpt licht op verschijnselen als verliefdheid, empathie, ambitie, bewustzijn, vergeetachtigheid, vriendschap, verslaving, eetlust, genot en geluk. Op levensfasen als kindertijd, puberteit en ouderdom. In Ben ik dat?
Writing things down, on paper or on-screen, is the best way to make sure you remember important info and tasks, but sometimes you've got to rely on your plain old brain to keep essential data sorted and handy.
End Your Insomnia, Snoring, and Other Common Sleep Problems with These Expert Tips - Lifehacker
If you have trouble sleeping, you're definitely not alone. More than half of US adults experience some symptom of insomnia at least a few nights a week. To help us get more of that elusive thing called sleep—and address issues beyond insomnia, like snoring, "monkey brain", and difficulty waking—we enlisted the help of a sleep specialist.
Sharing your thoughts is easy, but giving someone constructive criticism about their job performance or their quality of work is difficult.
Understand How to Give Constructive Criticism to Make Sure You're Heard