Hkhan
hodaa
Twittermania: 140+ More Twitter Tools! Twitter Profiling. Twitter Profiling. 85 Twitter Tools | The Daily Anchor. Here's a look at some of the tools that have been feeding my Twitter addiction, and some other highly-recommended tools that I'll be checking out this week.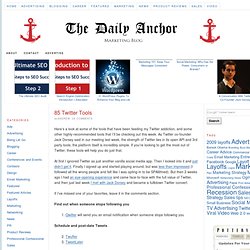 As Twitter co-founder Jack Dorsey said in our meeting last week, the strength of Twitter lies in its open API and 3rd party tools; the platform itself is incredibly simple. If you're looking to get the most out of Twitter, these tools will help you do just that. Twitter Tools. Twitter Tools. Social Media. Blogs Business 3. Local. Social Universe. Search and Research.
Keyword Research. Local Search Marketing. Localization. Tools. Horn13. Marketing. Via:packrati.us 8. Twitchboard 9. Socialmedia 1. Foursquare. Social media discussion. Google-local. Social Media ROI. Social Media : Marketing. New Businesses. How Social Media Drives New Business: Six Case Studies. Businesses both big and small are flocking to social media platforms such as Twitter, Facebook, YouTube and Foursquare.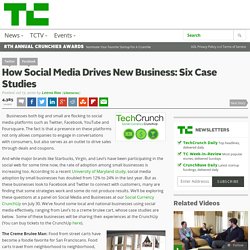 The fact is that a presence on these platforms not only allows companies to engage in conversations with consumers, but also serves as an outlet to drive sales through deals and coupons. And while major brands like Starbucks, Virgin, and Levi's have been participating in the social web for some time now, the rate of adoption among small businesses is increasing too. According to a recent University of Maryland study, social media adoption by small businesses has doubled from 12% to 24% in the last year. But as these businesses look to Facebook and Twitter to connect with customers, many are finding that some strategies work and some do not produce results. We'll be exploring these questions at a panel on Social Media and Businesses at our Social Currency CrunchUp on July 30. Automated Phone Calling Systems - Call-Em-All. Our Plans & Pricing Either way, you get the added bonus of having the support of our awesome customer service rockstars when you need help.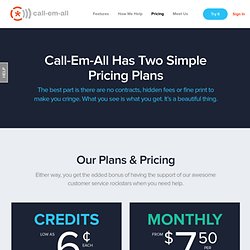 Credits Pay for what you need as you need it. 1 Credit = One 30 sec. call or 2 Texts Monthly. The Dealmap – The best local deals, coupons and discounts from t. Design a Facebook page for Free! SimpleGeo - Location is Hard. Make it Simple. Facebook and Twitter users spend 1.5x more online than the avera.
InShare13 If you want to get a glimpse of the economic future, focus on the emerging trends driven by those defining the evolution of the social Web.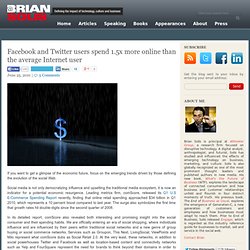 Social media is not only democratizing influence and upsetting the traditional media ecosystem, it is now an indicator for a potential economic resurgence. Leading metrics firm, comScore, released its Q1 U.S E-Commerce Spending Report recently, finding that online retail spending approached $34 billion in Q1 2010, which represents a 10 percent boost compared to last year. The surge also symbolizes the first time that growth rates hit double-digits since the second quarter of 2008. Social media: Hype or money-maker for your small business? By Rhonda Abrams for USA TODAY You've got 3,560 people following you on Twitter and 1,450 fans on your Facebook page.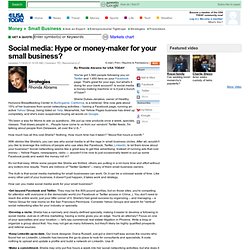 That's great for your ego, but what's it doing for your bank account? Yelp Interview Part 1: Luther Lowe Discusses Recent Lawsuit, His. I recently had the opportunity to sit down for an extensive interview with Luther Lowe, Yelp's Business Outreach Manager.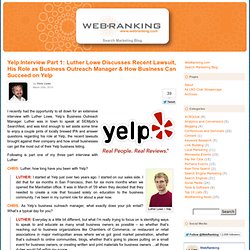 Luther was in town to speak at SEMpdx's Searchfest, and was kind enough to set aside some time to enjoy a couple pints of locally brewed IPA and answer questions regarding his role at Yelp, the recent lawsuits brought against their company and how small businesses can get the most out of their Yelp business listing. Following is part one of my three part interview with Luther: Luther Lowe ~ Yelp CHRIS: Luther, how long have you been with Yelp?
The loyalty program system within foursquare continues to evolve. Foursquare was created to motivate people to discover interesting things around them.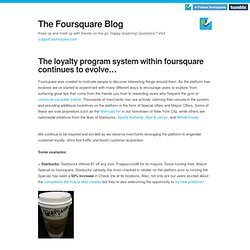 As the platform has evolved, we've started to experiment with many different ways to encourage users to explore, from surfacing great tips that come from the friends you trust to rewarding users who frequent the gym or commute via public transit. Thousands of merchants, too, are actively claiming their venues in the system and providing additional incentives on the platform in the form of Special offers and Mayor Offers. Local Business Search | Localeze.com | <strong>News Release:</strong> Localeze to Provide Business Listings for Facebook Places. Small Business Marketing w/Social. Small Business Marketing w/Social. Web marekting & social media. Social Media. Marketing & Facebook. Social media.
Pearltrees videos
Help.
---