Chiffres
3 Studies Show Facebook Marketing Potential
Facebook is hot. There's no question that Facbeook has a large audience. But what does this mean for marketers and business owners? Here are three recent Facebook-related studies that answer these very questions by examining how much time Facebook users invest in the platform, if Facebook ads are effective and other Facebook trends among online merchants. #1: One-Third of Online Time Spent on Facebook Among U.S.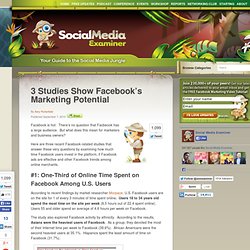 Chaque jour, les réseaux sociaux évoluent, tant à l'échelle nationale que mondiale. Certains périclitent, d'autres étendent leur empire, mais aucun ne stagne. La carte mondiale des réseaux sociaux pour juin 2012 permet de se faire une idée assez claire de la répartition mondiale de ces plateformes plus ou moins célèbres, de Facebook à Weibo et QZone (Chine) en passant par VKontakte (Russie).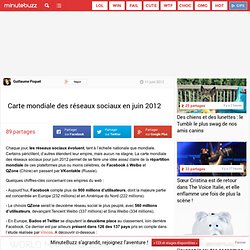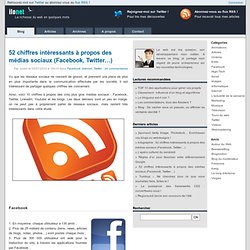 Par Julien le 05/07/2010 à 15h10 dans Facebook, Internet, Twitter - 24 commentaires Vu que les réseaux sociaux ne cessent de grossir, et prennent une place de plus en plus importante dans la communication effectuée par les société, il est intéressant de partager quelques chiffres les concernant. Ainsi, voici 10 chiffres à propos des cinq plus gros médias sociaux ; Facebook, Twitter, LinkedIn, Youtube et les blogs. Les deux derniers sont un peu en marge, on ne peut pas à proprement parler de réseaux sociaux, mais restent très intéressants dans cette étude.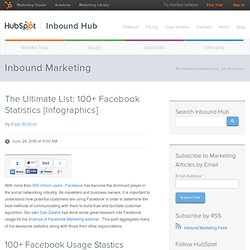 With more than 500 million users , Facebook has become the dominant player in the social networking industry. As marekters and business owners, it is important to understand how potential customers are using Facebook in order to determine the best methods of communicating with them to build trust and facilitate customer aquisition. Our own Dan Zarella has done some great research into Facebook usage for his Science of Facebook Marketing webinar . This post aggregates many of his awesome statistics along with those from other organizations.