Healthy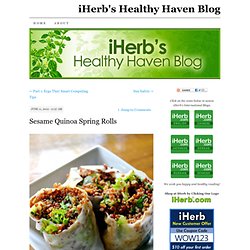 Sesame Quinoa Spring Rolls
Photo Credit to Cami of Como. Come. Cami. Blog
Mashed potatoes are one of my favorite things to eat on Thanksgiving, but this year since I am pregnant and on a really strict low carb diet (for my diabetes) real mashed potatoes are out (bummer). I recently started researching alternatives to some of my favorite dishes because there is NO way my plate will be without a big ole pile of mash potatoes. I came across this recipe that uses cauliflower instead of potatoes. Hmmm not a big cauliflower fan so I wasn't sure.
Delighted Momma: Skinny Mashed Potatoes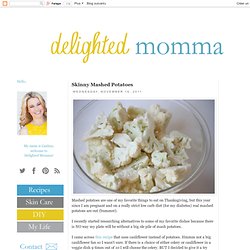 So, you know how I talked in my last post about being on a taco kick in my last post? Well, apparently I tend to cook in waves, because this week has also been shrimp-o-rama here at my place. First I made a batch of lightened-up shrimp scampi, which is coming on the blog next week. Then last night I made my very first-ever homemade shrimp paella with my neighbors from Spain. But the recipe that started it all was my lighter version of a classic — Skinny Popcorn Shrimp!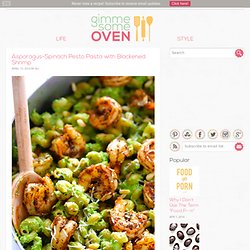 no-bake energy bites | gimme some oven
Toxins-free for life Looking to increase your energy levels, to lose weight, get clearer skin, prevent premature ageing and to help preventing diseases? Then look no further! This 5 days step-by-step detox will help you implement long-lasting healthy habits that yields results. Price: $47
Detox Foods | Detox smoothies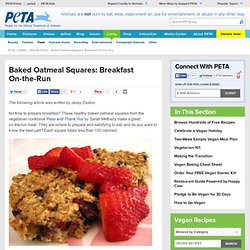 Baked Oatmeal Squares: Breakfast On-the-Run | PETA.org
The following article was written by Jessy Easton. No time to prepare breakfast? These healthy baked oatmeal squares from the vegetarian cookbook Peas and Thank You by Sarah Methany make a great on-the-run meal. They are simple to prepare and satisfying to eat, and do you want to know the best part?
Via: amy-newnostalgia.blogspot.com Why didn't I think of that?! We guarantee you'll be uttering those words more than once at these ingenious little tips, tricks and ideas that solve everyday problems … some you never knew you had! (Above: hull strawberries easily using a straw). Via: apartmenttherapy.com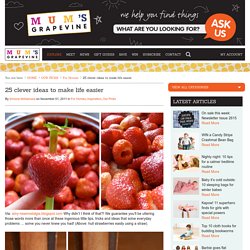 25 clever ideas to make life easier - StumbleUpon
Chicken and Egg Soup with Little Veal Meatballs Recipe : Alexandra Guarnaschelli
Directions This recipe has many personal touches: The combination of beef and chicken in the base of the recipe is something I got from my mother, studding the chicken with a couple of cloves to add a special flavor from making chicken stock at Guy Savoy in Paris and most of all, the meatballs from my parents. This soup is a meal unto itself and tastes even better leftover.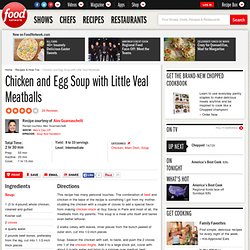 Strawberry Mango Salsa Recipe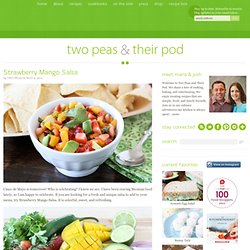 Strawberry Mango Salsa Cinco de Mayo is tomorrow! Who is celebrating?
Whole Wheat Noodles with Peanut Sauce and Vegetables Recipe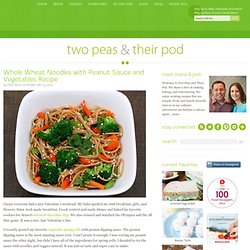 Whole Wheat Noodles with Peanut Sauce and Vegetables Recipe I hope everyone had a nice Valentine's weekend. My hubs spoiled me with breakfast, gifts, and flowers. Since Josh made breakfast, I took control and made dinner and baked his favorite cookies for dessert-oatmeal chocolate chip. We also relaxed and watched the Olympics and the All Star game.
Creamy Artichoke Lasagna Recipe - Food by Yahoo! Shine!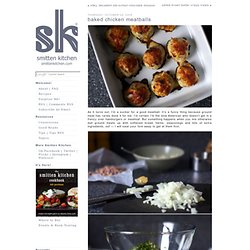 As it turns out, I'm a sucker for a good meatball. It's a funny thing because ground meat has rarely done it for me; I'm certain I'm the lone American who doesn't get in a frenzy over hamburgers or meatloaf. But something happens when you mix otherwise dull ground meats up with softened bread, herbs, seasonings and bits of extra ingredients, oof — I will swat your fork away to get at them first. I've found some good ones over the years, such as the only ones you should ever serve with your spaghetti and these guys, which, if you have not already, you should not wait until next summer to try, not to mention the ones I sneak into sliders and soup. But as I hadn't tried these before, my meatball recipe collection — and possibly even my life — was woefully deficient.
baked chicken meatballs
Glazed Carrots and Snow Peas Recipe
Roasted Potatoes, Carrots, Parsnips and Brussels Sprouts Recipe : Giada De Laurentiis
Ingredients 1 1/2 pounds Brussels sprouts 3 tablespoons good olive oil 3/4 teaspoon kosher salt 1/2 teaspoon freshly ground black pepper Directions Preheat oven to 400 degrees F. Cut off the brown ends of the Brussels sprouts and pull off any yellow outer leaves. Mix them in a bowl with the olive oil, salt and pepper.
Roasted Brussels Sprouts Recipe : Ina Garten
Baked Parmesan Tomatoes Recipe - ACE Healthy Recipes
Ingredients 4 tomatoes, halved horizontally 1/4 cup freshly grated Parmesan cheese 1 teaspoon chopped fresh oregano 1/4 teaspoon salt Freshly ground pepper, to taste 4 teaspoons extra-virgin olive oil Cooking Directions Step 1 Preheat oven to 450° F.
Grilled Swordfish with Citrus Herb Crust | Steamy Kitchen Recipes
Killer Chicken with Mushroom, Asparagus, and Red Bell Pepper Recipe
Stuffed Chicken Breasts with Asparagus and Parmesan Rice Recipe
Chicken Cordon Bleu Casserole Recipe
Acorn Squash Recipe
Perfect Guacamole Recipe
All you really need for guacamole is ripe avocados and salt. After that, the next most important ingredient is lime juice (or lemon if you don't have lime). Then come the cilantro, chiles, onion, and tomato.