Webdesign 2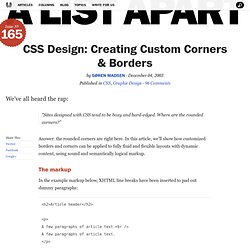 We've all heard the rap: "Sites designed with CSS tend to be boxy and hard-edged. Where are the rounded corners?"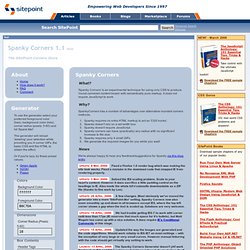 Generator To use the generator select your preferred foreground color (hex), background color (hex), corner radius (pixels: 5-60) and hit 'Spank Me!'. The generator will reload 'wearing' your selection while providing you 4 corner GIFs, the basic CSS and the HTML to obtain the effect. Or if you're lazy, try these preset values. Spanky Corners
Tools : Spanky Corners -- The SitePoint Corners Store
Home - Stylegala.com
Could not query forums information SQL Error : 1030 Got error 122 from table handler SELECT f.*, p.post_time, p.post_username, u.username, u.user_id, t.topic_id, t.topic_title FROM ((( forum_forums f LEFT JOIN forum_posts p ON p.post_id = f.forum_last_post_id ) LEFT JOIN forum_users u ON u.user_id = p.poster_id ) LEFT JOIN forum_topics t ON t.topic_last_post_id = f.forum_last_post_id) GROUP BY f.forum_id ORDER BY f.cat_id, f.forum_order Line : 174 File : index.php
Paid Search Column - Rebekah Diedo As Group Head at a fast growing search agency, I've carried out hundreds of campaign checks over the years. In my contributions here, I'll be sharing my top tips on things to look out for when reviewing your own campaigns. Some of these things are obvious, while others might have slipped past you because you're […]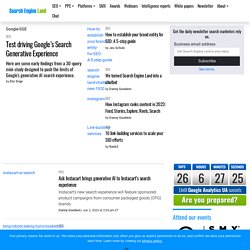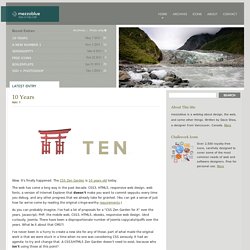 May 7 Wow. It's finally happened. The CSS Zen Garden is 10 years old today.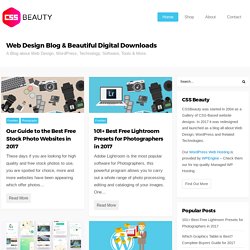 CSS Design Showcase | News, Jobs, Community, Web Standards Current News New form features in HTML5.
What? Spiffy Corners is a simple way to generate the CSS and HTML you need to create anti-aliased corners without using images or javascript. Why? I needed a way to create anti-aliased round corners without the extra server calls that are incurred when using external JavaScript files or images.
Letting Go of the Words
No Resolution
Django is a high-level Python Web framework that encourages rapid development and clean, pragmatic design. Developed by a fast-moving online-news operation, Django was designed to handle two challenges: the intensive deadlines of a newsroom and the stringent requirements of the experienced Web developers who wrote it. It lets you build high-performing, elegant Web applications quickly. Django focuses on automating as much as possible and adhering to the DRY principle. Dive in by reading the overview →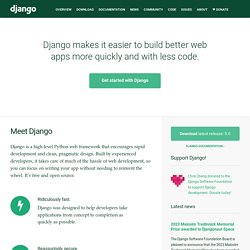 Forms that work: Designing web forms for usability - The design
If you want to improve the user experience of forms, this site is for you. Resources about the design of forms The two most popular papers are: Our most recent presentation is: or check the full list of articles or the page of our presentations. About the book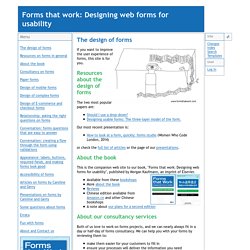 Verio Offerings Create the site you want with Verio hosting plan options. Powerful VPS service that allow you to customize your server configuration and choose the applications that match your needs. Verio is your strategic partner for top-tier hosting for complex websites and dedicated hosting.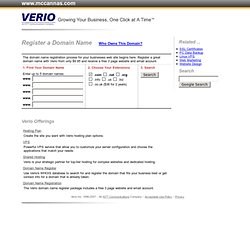 Laurie McCanna's Professional GUI Design and Free Art Site - Dow
Update This is the original article. The technique has been improved with better browser support and a lot of new features. The new article has been published on the 6th of April 2005.
Ninth Letter Arts & Literary Journal
Date created: January 11, 2005 Date last modified: March 30, 2009 The Colour Contrast Check Tool allows to specify a foreground and a background colour and determine if they provide enough of a contrast "when viewed by someone having color deficits or when viewed on a black and white screen"[W3C]. The tool will indicate that the colours pass the test if both the colour difference and the brightness difference exceed their threshold. It will indicate that it sort of passes if only one of the two values exceed their threshold. And finally, it'll fail to pass if neither value exceeds its threshold.