Webdesign 2
Fonts. Apache. JavaScript. CSS Vault » The Web's CSS Gallery & Site. CSS Design: Creating Custom Corners & Bo. We've all heard the rap: "Sites designed with CSS tend to be boxy and hard-edged.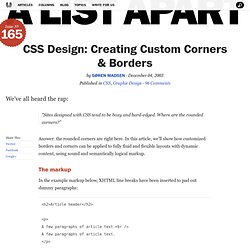 Where are the rounded corners?" Tools : Spanky Corners -- The SitePoint Corners Store. Generator To use the generator select your preferred foreground color (hex), background color (hex), corner radius (pixels: 5-60) and hit 'Spank Me!'.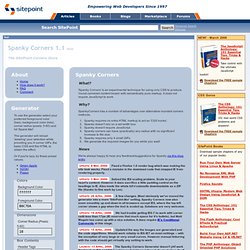 The generator will reload 'wearing' your selection while providing you 4 corner GIFs, the basic CSS and the HTML to obtain the effect. Or if you're lazy, try these preset values. Spanky Corners. Home - Stylegala.com. Search Engine Land: Must Read News About Search Marketing & Sear. COLOURlovers :: Color Trends + Palettes.
Mezzoblue § Home. Color Scheme Designer 3. SitePoint : New Articles, Fresh Thinking for Web Developers and. CSS Beauty | CSS Design, News, Jobs, Community, Web Standards. Spiffy Corners - Purely CSS Rounded Corners. Letting Go of the Words. No Resolution. Django | The Web framework for perfectionists with deadlines.
PHP
Forms that work: Designing web forms for usability - The design. Laurie McCanna's Professional GUI Design and Free Art Site - Dow. Nifty Corners. Update This is the original article.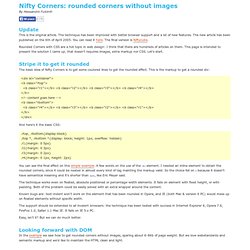 The technique has been improved with better browser support and a lot of new features. The new article has been published on the 6th of April 2005. Ninth Letter Arts & Literary Journal. Colour Contrast Check - snook.ca. Date created: January 11, 2005 Date last modified: March 30, 2009 The Colour Contrast Check Tool allows to specify a foreground and a background colour and determine if they provide enough of a contrast "when viewed by someone having color deficits or when viewed on a black and white screen"[W3C].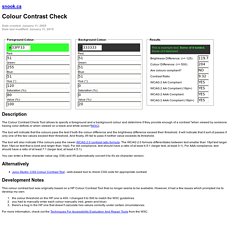 The tool will indicate that the colours pass the test if both the colour difference and the brightness difference exceed their threshold. It will indicate that it sort of passes if only one of the two values exceed their threshold. And finally, it'll fail to pass if neither value exceeds its threshold. Content Management System, Framework, and More - MODx.
Joomla
---