beauty
Get flash to fully experience Pearltrees
1. Old Buttons Repurpose spare buttons by using them to keep pairs of earrings together: Most buttons have at least two holes in them, so simply place an earring in each opening to neatly store when not wearing.
Photo: Arm & Hammer
Eggs, yogurt and honey are, at first glance, all components of a tasty breakfast—but they also happen to be hair treatment ingredients, and affordable, all-natural ones at that. And they're not the only ones. Did you know, for instance, that the oils in avocados more closely resemble our own skin's oils than any product in the beauty aisle does?
Let us be clear: Baking soda is not going to permanently cure your acne or turn back the cruel hand of time.
Vaseline, a.k.a. petroleum jelly is a beauty staple that every girl should have in their makeup bag. There are a zillions of uses for it and it is so inexpensive! Here's some beauty related tricks you can do with vaseline:
Facials are a great way to keep your skin glowing, but they can be pricey. We asked Louisa Macan-Graves, author of Hollywood Beauty Secrets: Remedies to the Rescue , and Elda Argenti, owner of the Plantogen skincare line, for their favorite make-at-home face masks crafted from common household ingredients. For All Skin Types
You know those Biore pore strips you buy at the drugstore for about $12 a pop? Yeah, those . Today I'm going to teach you how to make your own homemade pore strips .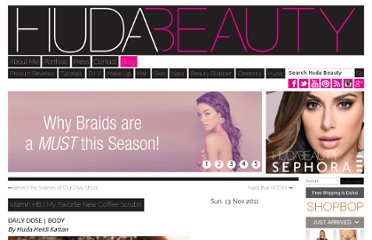 Vitamin HB | My Favorite New Coffee Scrub!!! Sun, 13 Nov 2011