Romance
Nine Things You Should Figure Out Before Moving in Together - DivineCaroline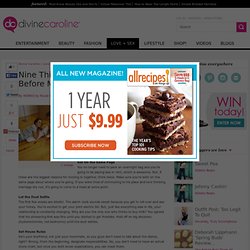 So, that's it. You've decided to move in together. You're excited, in love, and ready to go for it.
Have Fun With English: The Husband Store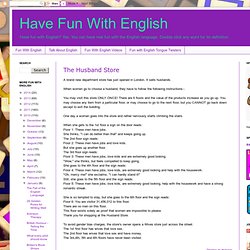 A brand new department store has just opened in London. It sells husbands. When women go to choose a husband, they have to follow the following instructions:- You may visit this store ONLY ONCE! There are 6 floors and the value of the products increase as you go up. You may choose any item from a particular floor, or may choose to go to the next floor, but you CANNOT go back down except to exit the building.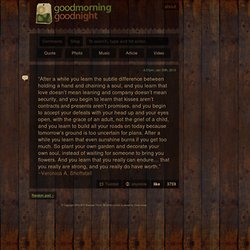 4:37pm | Jan 30th, 2010 "After a while you learn the subtle difference between holding a hand and chaining a soul, and you learn that love doesn't mean leaning and company doesn't mean security, and you begin to learn that kisses aren't contracts and presents aren't promises, and you begin to accept your defeats with your head up and your eyes open, with the grace of an adult, not the grief of a child, and you learn to build all your roads on today because tomorrow's ground is too uncertain for plans. After a while you learn that even sunshine burns if you get too much. So plant your own garden and decorate your own soul, instead of waiting for someone to bring you flowers.
Reporting an entry If this image belongs to you or is your intellectual property, please submit a copyright notification instead of reporting it. We encourage users to report abusive images and help us moderate the content on We Heart It. But please keep in mind that reporting images that are not abusive is against our terms of service and can get your account blocked.