Lectures
Barry Schuler: An introduction to genomics. How to Turn a Sphere Inside Out. Big Bang 1of4: Expanding infinity. UCTV - University of California Television. Bayes' Formula. VideoLectures - exchange ideas & share knowledge. 250 Free Online Courses from Top Universities.
Try Audible Now & Get a FREE Audiobook!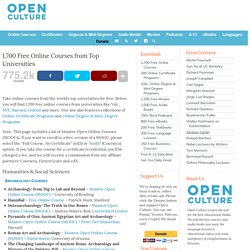 Get free online courses from the world's leading universities – Stanford, Yale, MIT, Harvard, Berkeley, Oxford and more. You can download these audio & video courses (often from iTunes, YouTube, or university web sites) straight to your computer or mp3 player. Over 30,000 hours of free audio & video lectures, await you now. Humanities & Social Sciences. Windows Hang and Crash Dump Analysis 7/9. Part 1 - Phantoms In The Brain (Episode 1) 40/40 Vision Lecture: Neurology and the Passion for Art.
---