JdR
RPTools - Home. Introduction to Mapping - MapToolDoc. Introduction First Things First: What is MapTool?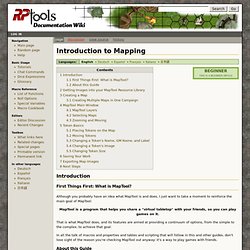 Although you probably have an idea what MapTool is and does, I just want to take a moment to reinforce the main goal of MapTool: MapTool is a program that helps you share a "virtual tabletop" with your friends, so you can play games on it. That is what MapTool does, and its features are aimed at providing a continuum of options, from the simple to the complex, to achieve that goal. In all the talk of macros and properties and tables and scripting that will follow in this and other guides, don't lose sight of the reason you're checking MapTool out anyway: it's a way to play games with friends. View topic - Object Images Per Category. Mapping Software - Forums: Objects and Textures (Fantasy) RPGMapShare.com | Your source for gaming maps and mapping objects.
Site de jeu de rôle. Accueila proposcontact Scenarii Deadlands Arkeos Midnight.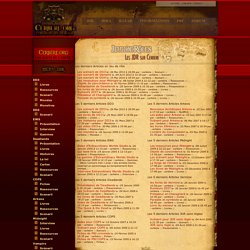 Donjons et Dragons 3.0 et 3.5. D&D 3.5 - D&D 4 - Pathfinder JdR - AideDD - Dungeons & Dragons.
---